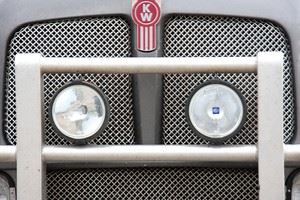 A semi-truck can be a deadly weapon, especially when operated by a careless or negligent driver. As Missouri truck accident lawyers, we know that truck driver fatigue can be a serious threat to roadway safety, especially for the occupants of smaller passenger vehicles. Research from the Insurance Institute for Highway Safety (IIHS) indicates that truckers are twice as likely to crash when they've been behind the wheel for more than eight consecutive hours. And when these accidents happen, the aftermath can be devastating.
Recently, the U.S. Department of Transportation's Federal Motor Carrier Safety Administration (FMCSA) issued an imminent hazard out-of-service order to a Michigan trucking company and one of its drivers. The order comes just weeks after the truck driver, 47 year-old Ibrahim Fetic, caused a fiery three-vehicle crash that left six people dead. According to WAVE-TV, the accident happened on March 2 in Hardin County, Kentucky. Authorities say Fetic's rear-ended an SUV on Interstate 65, causing the smaller vehicle to slam into the car in front of it and catch fire.
Six people in the SUV were killed, including the driver, 62 year-old James Gollnow; his wife, 62 year-old Barbara Gollnow; their daughter, 18 year-old Sarina Gollnow; a family friend, 92 year-old Marion Champnoise; and two foster children, 10 year-old Gabriel Zumiga and 8 year-old Soledad Smith. Two other passengers - also foster children of the Gollnows - were injured: 15 year-old Hope Hoth, who suffered from burns and a broken spine; and 12 year-old Aidian Ejnik, who suffered several cuts to the back of his head. The family was returning home to Wisconsin after a Florida vacation.
An investigation of the crash revealed the following:
• Troopers from the Kentucky State Police initially reported that the semi was following the SUV too closely. At the scene, Fetic said he "saw the vehicle that was in front of him and he hit the brakes and he didn't them in time," said Master Trooper Norman Chaffins.
• According to FMCSA officials, Fetic was driving well in excess of federal hours-of-service regulations, which govern the amount of time a truck driver can spend behind the wheel. Investigators examined eight of Fetic's record-of-duty status logs and found that all eight had been falsified.
• In addition, Fetic's employer, Highway Star, Inc., had apparently "allowed or required its drivers operating CMVs in interstate commerce to falsify their records-of-duty status and failed to preserve these records, resulting in the carrier being unable to monitor its drivers' compliance with regulations setting maximum hours of service and requiring off-duty and rest hours."
• In the two years leading up to the fatal Kentucky crash, drivers for Highway Star had accumulated 17 traffic violations for offenses including speeding, following too closely, and failing to use seat belts.
The personal injury lawyers at Aaron Sachs & Associates, P.C. represent the victims of Missouri semi-truck accidents. Our firm maintains offices in Springfield, Joplin, Columbia, Cape Girardeau and Kansas City, and we offer a free initial consultation to discuss your case. If you've been injured in a crash caused by a distracted or fatigued truck driver, you may be entitled to compensation for your losses and damages. Contact us today to find out if we can help: call us toll-free at 1-888-777-AUTO, or click here to submit our "Do I Have a Case?" form online.
Attorney meetings by appointment only