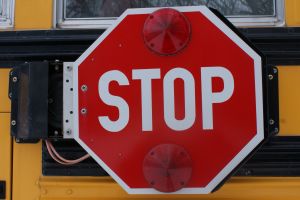 Our Missouri personal injury lawyers know that pedestrians are extremely vulnerable to serious, life-threatening injuries when they're involved in motor vehicle accidents. And when the vehicle is a large commercial truck weighing more than 10,000 pounds, the consequences of a crash can be even more catastrophic. Sadly, a recent semi-truck accident involving a young pedestrian getting off a school bus illustrates just how devastating these collisions can be.
The Federal Motor Carrier Safety Administration (FMCSA) has declared a North Carolina truck driver to be an "imminent hazard to public safety" after he struck and killed a child and left the scene of the accident. On April 23, authorities say a logging truck driven by 37 year-old Johnny Allen Spell passed a stopped school bus, struck a first-grader who was getting off the bus, and kept going. The child, 7 year-old Alyiah McKenzie Morgan, died en route to the hospital. According to WNCN-TV, the school bus's red lights were flashing and its stop sign was out at the time of the crash.
Within hours, police responded to a tip and located Spell and his vehicle about 30 miles away from the accident site. Spell has since been charged with numerous criminal offenses, including involuntary manslaughter, hit and run, driving while impaired and passing a stopped school bus. Thus far, investigators have declined to say whether Spell was under the influence of alcohol or drugs when the accident occurred. At present, he is being held in the Sampson County Jail on a $200,000 bond.
Spell reportedly has a criminal history that dates back to 1993. Official records indicate that he was also charged with DWI in 2008, and he was cited for driving without an operator's license only a week prior to the accident. Spell also has multiple drug convictions on his record, and it's unclear why his employer had allowed him to drive the logging truck in the first place.
A few days after Spell's most recent arrest, FMCSA officials ordered him not to operate any commercial vehicle and also launched an official investigation into his employer, Ricky Lucas Trucking. "FMCSA will continue to assist state and local law enforcement officials, who are leading the investigation, in every way possible," said FMCSA Administrator Anne S. Ferro in an official news release. "We demand that commercial drivers operate their vehicles with a high regard for public safety."

At Aaron Sachs & Associates, P.C., our personal injury lawyers represent semi-truck accident victims throughout the state of Missouri. We maintain offices in Springfield, Joplin, Columbia, Cape Girardeau and Kansas City, and we offer a free initial consultation to discuss your case and answer your questions. If you or a loved one has been injured in a semi-truck accident caused by an impaired or negligent trucker, it may be beneficial to review your legal rights and options with an attorney. Contact us today to find out if we can help: call us toll-free at 1-888-777-AUTO, or visit our website. For your convenience, we are available 24/7/365 to assist you.
Attorney meetings by appointment only