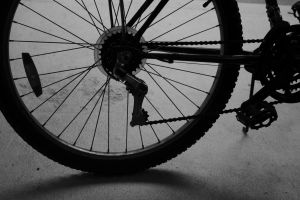 Our Kansas City personal injury lawyers know that bicycle accidents can have catastrophic consequences, especially when larger motor vehicles are involved. In fact, about one-third of all bicycle accidents occur when a passenger vehicle collides with a cyclist. And since bicyclists lack the protection of an enclosed vehicle, they are particularly vulnerable to serious, life-threatening injuries when these accidents occur.
Recently, a California man was sentenced to five years in jail after he pleaded guilty to one felony count of hit and run resulting in a fatality and one misdemeanor count of vehicular manslaughter without gross negligence. The Los Angeles Times reports that 40 year-old Michael Lopez struck rear-ended a bicyclist in September 2012 and then left the scene. Within three days, investigators were able to identify Lopez by reviewing surveillance video that was taken near the scene.
The victim, 57 year-old Dr. Catherine Campion-Ritz, was thrown from her bike onto the roadway on impact. She died of her injuries a few hours after the crash. During Lopez's trial, his attorney argued that drugs and alcohol were not involved and that the collision was simply a tragic accident. However, prosecutors pointed out that there's no way of knowing if Lopez was under the influence, because he fled the scene following the crash.
In response to Campion-Ritz's death, California Assemblyman Allan Mansoor authored a bill that would have increased criminal penalties for drivers who flee the scene of fatal accidents, adding an additional five year prison term to vehicular manslaughter convictions. However, the bill was shelved because the California's Senate Committee on Public Safety has a policy that prevents the consideration of new legislature that would contribute to the state's current prison overcrowding problem.
In Missouri, leaving the scene of an accident is a class D felony if the accident resulted in injury or property damage in excess of $1000, or if the driver has been previously convicted of a hit and run offense. Class D felonies are punishable by up to five years in prison. In addition, these drivers may be subject to personal injury or wrongful death lawsuits filed on their victims' behalf.
Bicycle accidents: Facts and statistics
• According to the Insurance Institute for Highway Safety (IIHS), 675 bicyclists died in 2011 collisions involving motor vehicles. This figure represents a 10% increase in cyclist fatalities compared to 2010.
• Data from the National Highway Traffic Safety Administration indicates that about one out of five fatal accidents involving pedestrians or bicyclists are caused by hit and run drivers.
• Serious head injuries are extremely common in vehicle/bicycle accidents. Of the 675 bicyclists killed in 2011 collisions, 67% were not wearing safety helmets.
• Fatal bicycle accidents are most common during the months of June, July, August and September, when temperatures are warm. This summer, we encourage all motorists to use extra caution when traveling near bicyclists and help promote safe travel for everyone on the road.
At Aaron Sachs & Associates, P.C., our personal injury lawyers serve the victims of Missouri auto accidents. We represent clients in Kansas City and the surrounding areas in Jackson County, including Blue Springs, Buckner, Grain Valley, Grandview, Lee's Summit, Oak Grove, Independence, Raytown, Sugar Creek and Unity Village. If you've been injured in a bicycle accident involving a larger passenger vehicle, you may be entitled to compensation for your losses and damages. Contact our office today to find out if we can help: call us toll-free at 1-855-695-1426, or click here to use our convenient "Do I Have a Case?" form.
Attorney meetings by appointment only