Meals on Wheels
Matt Carpenter and Aaron Sachs & Associates, P.C. are proud to partner with and support Meals on Wheels
Missouri Personal Injury Attorneys
You Don't Pay Unless We Win
At Aaron Sachs & Associates, P.C., we know that an injury can result in extra hardships in your life. Our team is here to help. Contact us if you have been involved in an accident and are confused about where to go next and what steps to take to protect your rights.
Speak up for those who cannot speak for themselves; ensure justice for those being crushed. Proverbs 31: 8-9
What Is Personal Injury Law?
Also referred to as "tort law," personal injury law aims to compensate victims after wrongdoings, or "torts." Cases are based on negligence, liability, and damages.
The plaintiff, or person who brings about the case, must prove that the person who harmed them was negligent, or that they violated a duty of care. Then, the plaintiff must show that this negligence caused their accident, thus establishing liability. The defendant, or liable person, must then be responsible for the measurable harms or injuries the plaintiff sustained as a result of their misbehavior, which are referred to as damages. When a negligent party is found liable, the court orders them to pay damages, or reimburse the plaintiff for their measurable ailments.
Personal injury law can come into play any time there's an accident or injury, but it occurs most frequently during car accidents. Drivers have a clear duty to exercise reasonable care on the road, and any breach of this duty (negligence) can cause injuries and losses (damages), for which the plaintiff is responsible (liability).
How Long Do You Have to File?
The statute of limitations for a personal injury claim in Missouri is 5 years. This means that you must file your claim within 5 years from the date of your injury to pursue legal recourse. If you are in a "minor" accident and discover your injuries after the fact, you will have 2 years from the date of discovery to file suit. If someone is harmed while under the age of 21 or mentally incapacitated, their statute of limitations may be paused, or "tolled," until they are an adult or otherwise able to pursue legal action for themselves.
The Missouri statute of limitations is laid out in Missouri Revised Statutes Section 516.120.
For case-specific questions and concerns, please contact our attorneys.
Comparative Negligence
Missouri operates on a pure comparative fault system. This means, that each party involved in a car accident can be found negligent and fault is not decided in an "all or nothing" fashion. Instead, a case is examined from all angles. If a defendant is more than 50% responsible for an accident, the plaintiff may be able to recover compensation. The plaintiff's award may be reduced, however, depending on how much of the accident was their fault.
For example, if a defendant caused a $100,000 car accident while violating traffic laws and the plaintiff was driving 100% safely, the plaintiff would be able to recover the full $100,000 in damages during a personal injury case. If the plaintiff forgot to signal their turn, however, the court might find them to be 25% negligent and their award could be reduced to $75,000.
Though based on legal precedent, the scenario above is an example. If you'd like to discuss your case, call us at (888) 287-1046.
How to Prove Negligence
In Missouri, you must prove 5 elements in order to prove negligence. These elements include:
1. Duty
2. Breach of duty
3. Cause in fact
4. Proximate cause
5. Actual Damages
First, you must show that the defendant owed you a duty of care. The state of Missouri automates some duties by requiring "reasonable care" to be exercised in certain situations. For example, every licensed driver in the state accepts a duty of care to those around them, and homeowners have a legally defined duty to keep their property "reasonably" safe.
Second, you have to prove how the defendant breached, or failed to meet, their duty to you. For example, if someone was texting while driving when they hit you, they were not being careful and therefore violated their duty of care as a motorist.
If someone was traveling 5 mph over the speed limit on a near-empty road, you may have a more difficult time proving their lack of reasonable care. In scenarios like this one, a good attorney can help you clarify the law and show exactly how a duty was breached.
Next, you must show that you would not have been injured if the defendant did not violate their duty of care towards you. This is called cause in fact. In Missouri, you must also show proximate cause, which means your injuries were caused directly by the defendant's breach of duty and you were not injured by something else.
If you sustained a head injury in a car accident, for example, you need to assert that your head would not have been injured if the driver adhered to their duty of care. You must also prove that any severe headaches came from the accident, and not from a history of migraines.
Finally, you must show how your injuries affected your physical, financial, and emotional wellbeing. If you had to pay for an emergency room visit, for example, your injuries have affected you financially. An award or settlement should reimburse you for this, and any other damages you attribute to your injury.
Types of Recoverable Damages
Sustaining an injury can cause a multitude of consequences. If you spent or lost money as a result of your injury, or saw changes to your quality of life, you can be compensated for the following:
Emergency room visits
Medical bills
Costs of rehabilitative care
Any work you missed during recovery
Diminished earning potential after the accident
Pain and suffering
Reduced quality of life
If you lost a loved one, you can also be reimbursed for the costs of their funeral and burial, and for the loss of that person's financial and emotional support.
If the person who harmed you acted in an especially egregious way, the court may also award punitive damages. Instead of compensating you for losses, this award is meant to punish the wrongdoer and prevent similar actions in the future.
With over 235 years of collective experience, our firm can help you evaluate your injuries and losses as measurable "damages" and recover any compensation you are entitled to.
How We Give Back

To The Community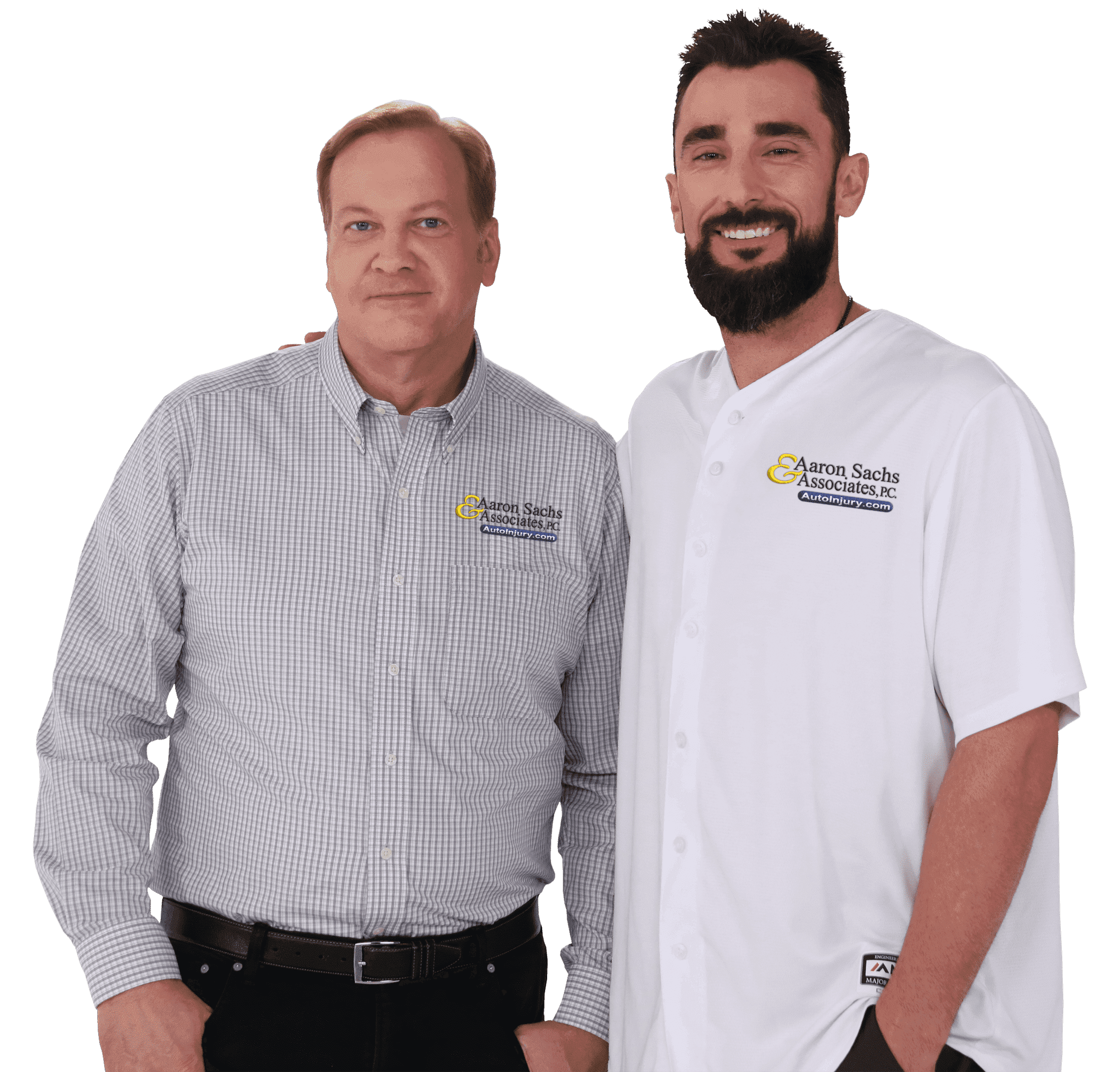 At Aaron Sachs & Associates, P.C., we know the value of our community & we instill a culture of giving back at our firm. We are involved in service projects each year.
See Why People Love Aaron Sachs & Associates
"I had seen Aaron Sachs, I went in for a consultation and told him about the accident, and they got me a settlement that was very satisfactory for me."

"They settled my case, and I'm really happy."

"The insurance company had a lawyer, and I didn't want to go to a lawyer fight without a lawyer. Aaron Sachs was there through the whole time with me."

"Working with Aaron Sachs and Associates - right away, they jumped on it and said 'You let me take care of this,' and I could sleep at night again."

"They gave me a big - much more of a peace of mind."

"I had seen Aaron Sachs, knew that he was a man of faith, a good church man, and being a missionary and a preacher, that really drew me to him."

"I just remember like, jerking my wheel, and then I blacked out as unconscious. And I just remember asking about my daughter like every five minutes, because she was only 13 months old and you know, my family lives abroad and my husband was deployed in Iraq."

"I thought, Aaron Sachs, I'm gonna go try them, see if they can help me."

"Just if you ever have an accident and feel like the world's against you, Aaron Sachs's team is the people to talk to."

"When I hired Aaron Sachs, I told him "I'm going to place this case in your hands, and I'm not going to worry about it anymore.""
Meet Our Attorneys
Over Over 235 years of Collective Experience Ready to Serve You