Eighty-Seven & Running
Mentoring & Supporting Underserved Children
Aaron Sachs & Associates, P.C. is proud to regularly support Eighty-Seven & Running, an amazing charitable organization founded by Travis Kelce of the Kansas City Chiefs. While growing up, Kelce noticed that not everyone in his community had the same educational opportunities, despite the community feeling tight-knit and welcoming. He created Eighty-Seven & Running to provide mentoring and motivational opportunities to underserved children throughout Kansas City, with a focus on cultivating a child's talents in athletics, business, art, and STEM.
Mission: "Our mission is to empower disadvantaged youths to achieve success by providing resources and support to their communities and cultivating their talent in the areas of education, business, athletics, STEM, and the arts. We seek to change the outcomes of underserved youth in communities across the U.S. by creating access to opportunities, enrichment, and advancement."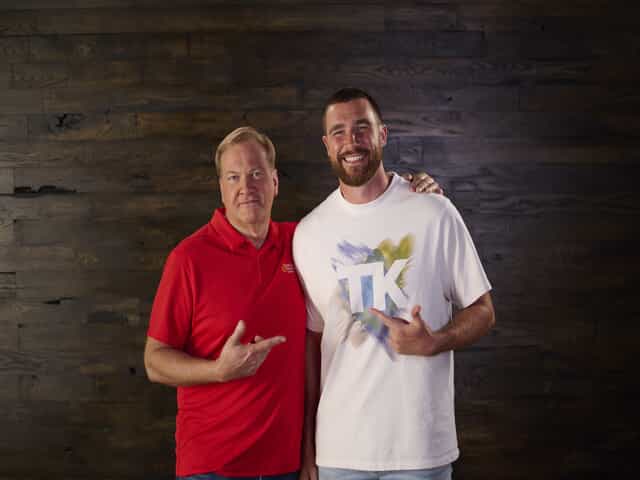 Aaron Sachs Teams Up with Travis Kelce
Our team, led by Attorney Aaron Sachs, enjoys finding creative and engaging ways to support our communities. We have to admit that Eighty-Seven & Running is one of our absolute favorite local foundations, even though it was founded only a few short years ago in 2015. We have made an effort to support this charity, and Attorney Sachs even teamed up with Travis Kelce in the past two years to help fund the Boys and Girls Club in Springfield, Missouri.
How to learn more about and support Eighty-Seven & Running:
Read our blog: We shared a blog post in early 2020 about our involvement with Eighty-Seven & Running, as well as other local charities. You can click here to read more.
Visit the Eighty-Seven & Running homepage: To get full details about Eighty-Seven & Running, we encourage you to head to the foundation's official website. You can learn about news, events, an "about us" explanation, and much more. Click here to visit the site.
Make a donation: Of course, if you want to get directly involved in the success of Eighty-Seven & Running and the children it supports through unique mentoring opportunities, then donating is a quick, effective way to help. Click here to load the official site's donation portal.
---
Want to know even more? Call our firm at (888) 287-1046 at any time.
"My husband was in a car accident, we called Aaron Sachs, and are very glad we did! First of all, they sent someone to our home to interview my husband, so he did not have to drive all the way to Springfield to their office while he was in pain."

- Former Client

"I was rear-ended by a non-insured driver. My car was totaled and I ended up having surgery on my shoulder. I was thrilled to get a settlement way larger than I could have dreamed."

- Former Client
Accessibility

We make sure that we are available to answer our clients' questions, breaking down the complex legal jargon and using plain English. There is no "one size fits all" answer — your case needs and deserves individual attention, and this is what we are prepared to provide.

Professionalism

Our team has over 235 years of combined experience, handling over ten thousand personal injury cases. We are committed to professional excellence in every aspect of what we do and how we do it. We have over 65 employees with an exclusive focus on injury claims.

Understanding

We strive to meet our clients where they are and provide the service they need. Suffering an injury is a difficult time in an individual's life; you need representation that understands both the worries you may be feeling and the world you are now dealing with. Let us help ensure your rights are protected.
Contact Us
It Won't Cost You Anything To See If We Can Help