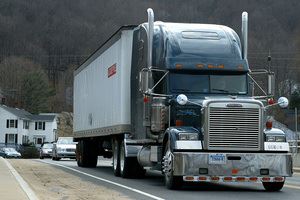 Today, the Federal Motor Carrier Safety Administration (FMCSA) announced that a Georgia-licensed trucker has been declared an imminent hazard after he struck and killed an Illinois State Trooper on Interstate 55. The St. Louis Post-Dispatch reports that Trooper Kyle Deatherage, 32, died while conducting a traffic stop near Litchfield on November 26. Deatherage had parked his motorcycle and was speaking with the driver when he was hit by a northbound tractor trailer. He was pronounced dead at the scene.
In the days immediately following the accident, authorities declined to disclose any additional information about the incident, including the identity of the driver. Then, FMCSA officials issued an imminent hazard out-of-service order to 51 year-old Johnny Felton Jr. following his involvement in the accident. According to the official news release, "agency investigators found serious safety concerns surrounding [Felton's] medical condition and qualifications under his commercial driver's license (CDL) issued by the State of Georgia. Investigators discovered that Felton failed to disclose to a medical examiner his disqualifying medical conditions, including his medications prescribed in treating those conditions."
Felton was employed by Dot Transportation Inc. (DTI), a trucking company based in Mt. Sterling, Illinois. After the crash, Felton reportedly told investigators that his medical condition caused him to lose consciousness in the moments before he struck Deatherage.
UPDATE, 12/4: DTI has released a statement indicating that Felton has been removed from the road, pending an investigation. At present, the collision is also being investigated by the Illinois State Police and FMCSA. Felton has not yet been charged with any criminal offenses, though police reportedly found prescription medication in his vehicle, reports the Belleville News Democrat.
A recent report from the Government Accountability Office (GAO) revealed that semi-truck drivers who suffer from debilitating medical conditions are often able to slip through the cracks in the system and obtain commercial driver's licenses (CDLs), even though these conditions make them dangerous behind the wheel. According to the report, the GAO found "204 commercial drivers who drove a commercial vehicle as recently as 2011 despite having epilepsy, a disqualifying medical condition characterized by sudden seizures and unconsciousness. Thirty-one of these drivers were involved in accidents, demonstrating the threat to public safety posed by medically impaired drivers."

In addition, the GOA found 23 instances where truck drivers were issued licenses or had their licenses renewed after they had been diagnosed with epilepsy or drug or alcohol dependence. Now, states are required to store electronic medical records for new and renewing CDL applicants, and the GOA hopes this requirement will keep potentially dangerous truckers off the road.
The personal injury lawyers at Aaron Sachs & Associates, P.C. represent the victims of Missouri trucking accidents. If you've been injured in a collision with a semi-truck, we may be able to assist you. Our attorneys work on a contingent-fee basis, and we offer a free initial consultation to discuss your case. If you'd like to schedule an appointment, please call us toll-free at 1-888-777-AUTO, or visit our website. Offices in Springfield, Joplin, Columbia, Cape Girardeau and Kansas City.
Attorney meetings by appointment only