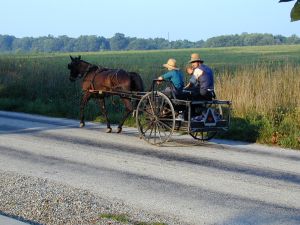 Early Monday morning, a semi-truck plowed into an Amish buggy in LaGrange County, Indiana, leaving one person dead and four others injured. The crash happened as the semi-tractor attempted to pass the buggy: the buggy, traveling on the roadway shoulder, suddenly merged into the semi's lane of traffic. The occupants of the buggy were ejected: one suffered serious head injuries and was pronounced dead at the scene. Two other passengers were airlifted to Fort Wayne, and one was taken by ambulance. The LaGrange County Sheriff's Department continues to investigate the incident.
Unfortunately, car and buggy accidents are not uncommon. In fact, they take place every year, leaving many seriously injured or killed. Some drivers find it frustrating to share the road with this kind of vehicle, but it is important to note that the buggy is seen as a symbol of the Amish lifestyle. Their beliefs prevent them from owning a car, because it is considered a worldly distraction.
In the majority of auto/buggy collision, the auto drivers are the responsible parties. Drivers living in communities with an Amish population should expect to see buggies on the road - and act accordingly. Just as drivers must share the roads and bike riders and other pedestrians, the same precautions should be taken when navigating around and sharing the road with buggies. It is important for auto drivers to be respectful of Amish buggies by using common sense (and extra caution) when traveling near one of these vehicles.
Authorities have long considered the best way prevent car and buggy accidents. Chris Haller, a Pennsylvania highway engineer, suggests addressing the issue by raising awareness through education and safety campaigns. These campaigns would target areas with a large Amish population, and work to teach citizens how to handle encounters with buggies. Also, many advocates recommend that states implement more warning signs for automobile drivers and reduce speed limits in areas with heavy buggy usage. However, the problem with reducing speed limits in buggy populated areas is that many local drivers disregard speed reduction signs.

Another option is to widen roadways for comfortable buggy transportation. Such projects would take time and money, but in the long run, roadway widening may be a necessity for some communities. Also, construction of more direct roads between farms and towns could be useful to many Amish people, and would also eliminate such a heavy buggy presence around roadways with automobile drivers. Here again, however, creating new roadways also takes time and resources.
As you can see, the most straightforward way to reduce buggy accidents involves cooperation from local drivers and their surrounding communities: drivers must use additional caution in specified areas. If both communities work together, roadways can be much safer for all travelers. We urge you to share the roadway, and to be patient. Many fatal accidents can be prevented, if cars and buggies simply look out for each other.
The truck accident attorneys at Aaron Sachs & Associates, P.C. represent injury victims throughout the state of Missouri. We maintain offices in Springfield, Joplin, Columbia, Cape Girardeau, and Kansas City, and we offer a no-cost, no-obligation consultation. To schedule an appointment, please call 1-888-777-AUTO, or visit our website.
Attorney meetings by appointment only