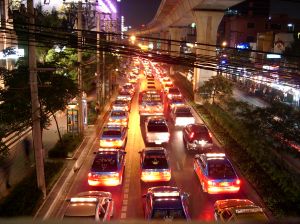 Road rage has become so common that it's expected: in fact, it's almost socially acceptable. However, the consequences associated with aggressive driving and road rage behaviors can be extremely serious.
Many drivers aren't aware that anger and aggression regularly contribute to car accidents, but the unfortunate truth is that many crashes begin with road rage.
On July 1, two drivers were charged with vehicular homicide in connection with a road rage incident on the Garden State Parkway in New Jersey. Witnesses reported that a Honda Pilot and a Chevrolet Trailblazer had been driving erratically, making dangerous lane changes, speeding, and tailgating each other when both vehicles merged onto an exit lane. At that point, the Honda attempted to pass the Trailblazer on the right, which caused the Honda to lose control, run off the road and strike a guardrail. The vehicle was then propelled back into traffic, where it overturned and smashed into the side of the Trailblazer. The Trailblazer then ran into the guard rail. During the crash, a female passenger in the Honda - 63 year-old Annetta Billingy - was ejected from the vehicle. Billingy was airlifted to a nearby hospital, but she later died as a result of her injuries.
Could this kind of crash happen in southeastern Missouri?
A fatal car accident is a possibility anywhere there are aggressive drivers on the road. Recently, an aggressive driver in Kansas City pulled a gun on another motorist, eventually leading police on a pursuit that ended in a crash: thankfully, no one was injured in that incident. And in June, in O'Fallon, a grandfather shot and injured a motorcyclist after being punched during a road rage dispute.
Aggressive driving behaviors include the following:
• Following too closely
• Weaving in and out of traffic
• Slowing down or stopping abruptly in front of other drivers
• Edging into adjacent lanes trying to push other drivers out of the way
• Running red lights and ignoring other traffic devices and laws
• Speeding up to keep another driver from changing lanes
• Racing or driving faster than surrounding traffic
In short, aggressive drivers place other motorists in danger by making risky maneuvers in an attempt to control the road. These drivers frequently cause car accidents with serious, even fatal consequences.
Southeastern Missouri has experienced 35 traffic fatalities so far in 2012. If we all do our part, we can prevent additional crash deaths caused by road rage incidents. Of course, all drivers get frustrated by traffic from time to time, but it's a mistake to make a rash decision with permanent, life-changing consequences simply because of frustration.Check out these tips on road rage prevention, and help ensure that more Missouri motorists arrive safely at their destinations.
At Aaron Sachs & Associates, P.C., our personal injury lawyers represent accident victims in southeastern Missouri, including Cape Girardeau, New Madrid, Poplar Bluff, Sikeston, Ste. Genevieve and Potosi. To schedule an appointment for a free initial consultation, please call us toll-free at 1-888-777-AUTO. To learn more about our attorneys, visit our attorney profile page.
Attorney meetings by appointment only