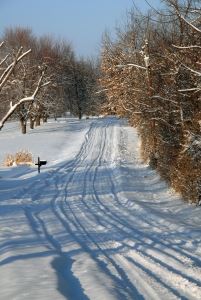 It's official: winter has arrived. Yesterday, Boone County snow accumulation totals ranged from one to three inches, which caused dangerous driving conditions and prompted school closings in the Columbia area. As the winter season progresses, the Columbia, Missouri car accident attorneys advise you to be mindful of road conditions, and vigilant about safe driving practices. These behaviors reduce your chances of becoming an accident victim, especially in inclement weather.
City crews began working to clear streets at 10 p.m. on Wednesday, when the winter weather advisory took effect. Seven plows salted and pre-treated bridges, first-priority streets and second-priority streets, covering 171 miles even before the snow started to fall. Then, at 5:00 a.m. on Thursday, a full crew of 22 plows began tackling residential neighborhoods. In addition, the Missouri Department of Transportation (MoDOT) had 225 trucks operating statewide, 25 of which were stationed in Boone County.
Roads that carry the heaviest traffic - like Broadway and Vandiver Drive - are classified as first-priority streets for city crews. Routes to schools and hospitals are second-priority. MoDOT crews handle state roads, like Stadium Drive, I-70 and Highway 63.
Statewide, the winter weather caused hundreds of accidents and traffic problems. In Columbia, local police investigated seven snow related accidents between midnight and 8:00 a.m. Conditions remained treacherous during the Thursday morning commute: the Columbia Transit system was forced to shift to their Emergency Weather Schedule, and several other accidents were reported. According to the Joint Communications Center, there were approximately four collisions (either between vehicles or between a vehicle and a non-moving structure) and approximately six slide-off accidents.

Sometimes, particularly in winter weather, accidents like these are simply unavoidable. However, there are a few things you can do to help protect yourself, your passengers, and the drivers around you. Below, you'll find some advice about winter driving, courtesy of MoDOT:
MoDOT Winter Driving Tips




Wear your seatbelt!

Also, make sure to use your windshield wipers, headlights and turn signals.



Slow down!

It's important to reduce your speed when roads are slick, so that you won't slide if you have to stop suddenly.



Use "gentle pressure" when you accelerate!

Slamming on the gas (or the brakes) can cause you to lose control of your vehicle.



Keep your distance!

Double the distance between cars, and be sure and allow snowplows and tractor trailers extra room. Also, avoid passing vehicles when you're crossing a bridge.



Watch for other drivers!

Be conscientious when you pass accidents or cars that have slid off the roadway.


The attorneys at Aaron Sachs & Associates, P.C. encourage you to drive responsibly, especially in inclement weather, and help make roadways safer for all Missourians. If you or a loved one has been injured in a car accident, call our office at 1-888-777-AUTO to schedule a free initial consultation.
Attorney meetings by appointment only