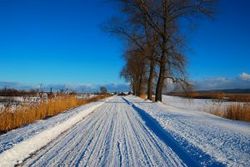 Here in Missouri, we had our first round of winter weather today: statewide, roads were pretty nasty during the morning commute. All day, the Greene County truck accident attorneys have been hearing reports of accidents caused by poor road conditions. Here in Springfield, there were dozens of slide-off and rear-end accidents, and throughout the state, collisions - particularly those involving tractor trailers - caused problems on Missouri highways. Several of these accidents necessitated the closing of Interstate 44 in multiple locations, while local police departments and the Missouri Highway Patrol went on emergency status.
Two tractor trailer accidents happened early this morning in Newton County, near Neosho. An eastbound truck jackknifed at the 4 mile marker on I-44. Then, near the 6 mile marker, a westbound tractor trailer rear-ended a passenger vehicle, which forced closure of all four lanes of traffic: the westbound lanes remained closed for several hours, and traffic was diverted off the highway. Specific details about that accident have not yet been released, but police confirm that there were injured parties, and at least two tractor trailers were involved in the collision.
Meanwhile, two additional accidents caused the closing of I-44 in Phelps County, just outside Rolla, between mile markers 184 and 189. First, an accident involving a tractor trailer stopped westbound lanes of traffic. Then, just a short time later, another accident in the eastbound lanes forced the closure of those lanes as well. The highway remained closed until midmorning.
Elsewhere on 1-44, there were several other tractor trailer incidents, including a truck that slid into a pickup at mile marker 89 (in Greene County), and another jackknifed truck at mile marker 36 (in Lawrence County). On Missouri Highway 90, a tractor trailer overturned in McDonald County, and on MO 13, south of Osceola, a collision left a truck stuck in the median.

Thankfully, the snow itself is moving out of our region, but the cold temperatures will stick around a bit longer. Throughout Missouri, weather forecasters are predicting windy conditions, temperatures below freezing, and wind chills in the single digits for this evening. The Missouri Department of Transportation (MoDOT) reports that most major Missouri roads have been cleared and are now drivable, but the Department urges you to drive cautiously: don't follow too closely, don't speed, and watch for icy areas.
And remember that tractor trailers can be especially dangerous in slick conditions: be sure to give them plenty of room. Fully loaded, a tractor trailer can require 100 yards - the length of a football field - to come to a complete stop. Protect yourself, and keep your distance.
For more information about Missouri weather, road conditions, and traffic incidents, call MoDOT at 1-888-275-6636, or click here to view the MoDOT Traveler Information Map.
The attorneys at Aaron Sachs & Associates, P.C. encourage you to be safe out there! If you have questions about a Springfield trucking accident, call our toll free number to schedule a free initial consultation: 1-888-777-AUTO.
Attorney meetings by appointment only