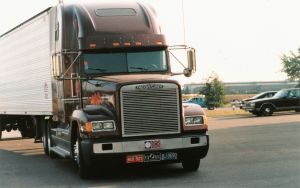 As Missouri auto accident lawyers, we know that being involved in any kind of auto accident can be a traumatic experience. When a crash involves a large semi-truck, however, the outcome can be catastrophic. Because of their sheer size and weight, it's common for semi-trucks to cause serious, life threatening injuries to the occupants of smaller passenger vehicles.
Statistics show that passenger vehicle occupants are extremely vulnerable to injury when they're involved in collisions with semis. According to the Insurance Institute for Highway Safety (IIHS), 3,514 people died in 2012 auto accidents involving semi-trucks. Of those deaths, 74% were the occupants of the semi-trucks; 15% were pedestrians, bicyclists or motorcyclists; and 67% were the occupants of smaller passenger vehicles. In two vehicle accidents involving a passenger vehicle and a semi-truck, 96% of fatal injury victims were passenger vehicle occupants.
All too often, the victims of these crashes - and their loved ones - find their lives are turned upside down in a split second. Would you know what to do if it happened to you? Below, our truck accident lawyers offer a few tips to help you be prepared, just in case the unthinkable happens.
I've been injured in a semi-truck crash: what should I do?
Seek immediate medical attention for your injuries. First and foremost, you need to ensure you are evaluated by a medical professional. Sometimes, serious injuries - like broken bones - are easy to see, but in other cases, you may not know how badly you're hurt. Symptoms of certain internal injuries (like spinal cord damage and brain injuries) may not present themselves right away - it could be hours or even days before you realize you're hurt. The sooner you're seen by a doctor, the better.
Preserve important evidence. If possible, you'll want to photograph the scene of the crash. Also, be sure to save any paperwork you receive in connection with the accident, including the police report/witness statements, medical bills/reports, letters from insurance companies/trucking companies, etc. Keep all these materials in a binder to ensure nothing is misplaced.
Contact an experienced attorney. Certain complications can arise when filing a personal injury claim following a semi-truck crash. In addition to the truck driver, you'll likely be dealing with a trucking company and the company's insurer. An experienced personal injury lawyer can communicate with these parties on your behalf, allowing you to focus on recovery. An attorney can also help determine the scope of your expenses, both in the present and long term.
At Aaron Sachs & Associates, P.C., our personal injury lawyers represent the victims of Missouri trucking accidents. If you've been injured in a collision involving a semi-truck, contact us at

(888) 287-1046

​.