As always, Columbia, Missouri car accident attorneys advise that you avoid using a mobile device while driving to decrease your risk of having an accident. That said, we wanted to call your attention to a new app available from the Missouri Department of Transportation (MoDOT). This app is designed to provide resources and information to Missouri motorists, in an effort to make them better equipped to arrive safely at their destinations.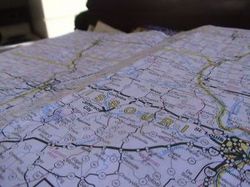 In preparation for busy holiday roadways, the MoDOT Traveler Information Map App is now available for free download at the iPhone App Store (for iPhone 3GS and above) and at the Android Marketplace (2.2 and above). Some Missouri drivers will likely be familiar with the online version of this service, the Traveler Information Map. The app attempts to combine that useful service with the convenience of hand-held devices.
Here are just a few features of the Traveler Information Map App:
Provides updates about weather-related road conditions, including ice, snow, flooding, etc, with continuous updates during weather events and storms
Includes a "Conditions" button for quick access to details about construction work zones, incidents and accidents on Missouri roads
Supplies radar images, courtesy of the National Weather Service
Utilizes an interactive state map that can be tapped to zoom in on specific areas
Accesses still shots of traffic (only available on some routes)
Offers a direct link to MoDOT's customer service call center
MoDOT stresses that this app is intended for use as one of several tools to help Missouri drivers plan safe, efficient routes when they travel. They encourage drivers to use the app in conjunction with local weather and law enforcement alerts, especially during the holiday season and the winter months, when traffic is likely to be heavier and road conditions may be affected by winter weather.

Additionally, MoDOT - like the personal injury lawyers at Aaron Sachs & Associates, P.C. - implores you to refrain from using this app (and handheld devices in general) while you are behind the wheel. Let a passenger do the navigating, or stop somewhere safe to check your route. According to the United States Department of Transportation, using a mobile device while driving "delays a driver's reactions as much as having a blood alcohol concentration at the legal limit of .08%." Some drivers think they're skilled enough at driving to use their phones without worry, but studies have shown that using a handheld device requires 39% of the energy that the brain would normally devote to driving safely. Distracted driving incidents are becoming increasingly prevalent: use this app to help you avoid an accident, not to cause one.
If you'd like more information about the Traveler Information Map App, contact Matt Hiebert at 573-526-0897; Sally Oxenhandler at 573-751-7456; or Customer Service at 888-275-6636 or 573-751-2840. To read MoDOT's news release about the app, click here.
And if you have questions about a personal injury claim, the Columbia, Missouri auto accident attorneys offer a free consultation. Call us at 1-888-777-AUTO to schedule an appointment. We wish you a happy and safe holiday season!

Attorney meetings by appointment only