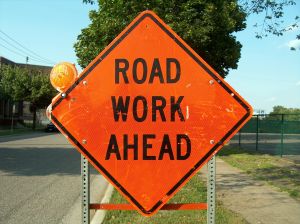 Roadway construction workers face dangers on a daily basis. Proximity to busy roadways, high traffic volume and inattentive drivers often place these workers at an increased risk for serious injury. Crews use signage, cones, and lighting to make work zones conspicuous to motorists, but accidents still happen in construction areas nationwide.
Recently, two construction workers were killed and a third was injured when two reportedly drunk drivers collided on the 405 Freeway in Torrence, California. According to the Los Angeles Times, a blue Ford Explorer rammed into the back of a black Lexus SUV, causing the Lexus to spin into a group of freeway workers and then overturn. Two workers - 56 year-old Ramon Lopez and 58 year-old Ricardo Zamora - were pronounced dead at the scene. Another worker was taken by ambulance with "minor to moderate injuries," the Times reports.
The driver of the Explorer, 23 year-old Yocio Gomez, was arrested at the scene for driving under the influence of alcohol. Later Sunday morning, the driver of the Lexus, 43 year-old Stephen Caserta, was also arrested for suspicion of drinking and driving.
Prosecutors are still investigating the potential case against Caserta, but he is now free on bail and is due in court on August 10th. Gomez is currently in jail in lieu of $5 million bail: he allegedly has two previous DUI convictions, one in July 2008 and another in April 2009. Gomez could face life in prison if convicted of another DUI.
Here in Missouri, Governor Jay Nixon recently signed an expansion of our state's "Move Over" law, which provides additional protection to road construction workers. When approaching Missouri Department of Transportation (MoDOT) crews, drivers are now required to move over to the other lane, just as they do for police vehicles, fire trucks and ambulances. The law applies to MoDOT vehicles with flashing yellow and white lights, and safety advocates hope the revision will help decrease work zone fatalities.

According to MoDOT statistics, 11 people died in construction zones in 2011, and 701 workers were injured while on the job in work zones. Before Governor Nixon signed the new law, there was little protection in place for workers, and many workers agree that the expansion of the "Move Over" law is a much needed change. "It is dangerous to even exit the vehicle, let alone try to perform a task on the shoulder," Earl Wallace, Southwest District Incident Management Coordinator, told KY3. Drivers can face a $1,000 fine for violating the revised law.
When approaching and passing through work zones, be sure to slow down use extra caution. These zones are usually very well-marked: watch for signage that provides information about upcoming detours, lane closures and reduced speed limits. According to MoDOT, there are three factors that can affect work zone safety: speed, space and stress. To learn more about how drivers can manage these factors, please visit MoDOT's website.
The car accident lawyers at Aaron Sachs & Associates, P.C. represent injury victims in Columbia, Missouri and the surrounding areas, including Jefferson City, Centralia, Ashland, Kirksville, Fulton and Moberly. To schedule an appointment for a free initial consultation, call us toll-free at 1-888-777-AUTO, or contact us online.
Attorney meetings by appointment only