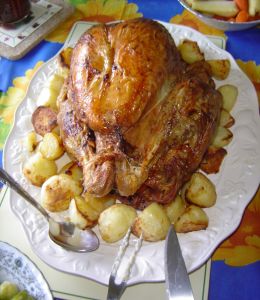 The Neosho car accident lawyers at Aaron Sachs & Associates, P.C. want to remind everyone that the upcoming Thanksgiving holiday weekend is the busiest of the year on Joplin and Neosho's roads. Approximately 90% of holiday travelers do so by car. Therefore, the amount of car accidents is also correspondingly high, although not as high as the Christmas or New Year's holidays.
It is tragic when a holiday--especially one which is intended to bring family together and celebrate our blessings--turns to disaster in the form of a motor vehicle accident.
According to the Missouri State Highway Patrol, their 20-mile Trooper Enforcement Operations have been highly successful in reducing the numbers of crashes and their resulting injuries and fatalities. They are gearing up to continue these initiatives in various locations over the upcoming holiday weekend.
You can expect to see the Highway Patrol out doing their job on interstates and secondary highways throughout Neosho and the rest of Missouri this weekend. The Patrol considers the weekend to be from Wednesday, Nov. 23 at 6pm, to 11:59 of Sunday, Nov. 27. In 2008, nationwide, 389 occupants of passenger vehicles were killed in car crashes during this four day period and thousands more were injured, nationwide.
"The Thanksgiving holiday weekend is the busiest holiday of the year," said the MSHP's Captain Johnson in a press release. "If anyone observes a vehicle operating in a careless manner, please contact the Highway Patrol toll-free at 1-800-525-5555 or on a cellular phone at *55.
The National Safety Commission offers some tips for all Joplin citizens to stay safe one the roads this year:
• Buckle up. Of the fatalities during the 2008 Thanksgiving weekend, more than 2/3 were not using their seatbelts.
• Obey the speed limit. Speeding is one of the main causes, if not the main cause, of traffic crashes. Local law enforcement will be on the lookout for speeders.
• Don't drink and drive. Need we say more?
• Leave extra time to get where you need to go. Most travelers who are going long distances leave right after work on Wednesday evening. Because of this increase in motorists, normal rush hour delays may extend throughout the evening and into rural areas which usually have no traffic congestion at all.
The Thanksgiving holiday itself poses a special danger to drivers because of both the size of the meal, and its traditional main ingredient--turkey. Turkey contains tryptophan, which is actually used as in ingredient in over the counter sleeping aids. Both over-eating (and who doesn't over-eat on Thanksgiving?) and eating a lot of turkey can make a person sleepy. Drowsiness behind the wheel can slow reaction time and cause serious accidents.
The Neosho car accident lawyers at Aaron Sachs & Associates, P.C. want to wish everyone a wonderful Thanksgiving. We have much to be thankful for this year and sincerely hope you feel the same. If you have been injured in a car accident, we will be available to offer assistance throughout the holiday season. Please call us toll free, and make an appointment for a no-cost, no-obligation initial consultation with one of our car accident lawyers.

Attorney meetings by appointment only