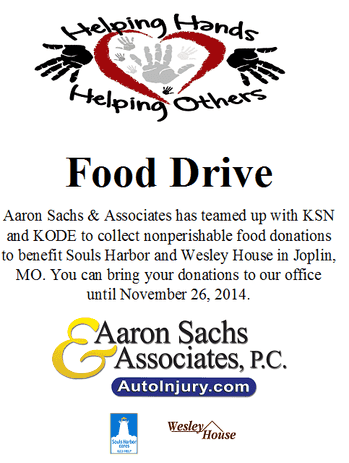 Here at Aaron Sachs & Associates, P.C., we're proud to be a sponsor of the KODE/KSNF Thanksgiving Pantry Food Drive: Helping Hands, Helping Others. Between now and November 26, you can drop off canned and non-perishable food items at the following locations:
Aaron Sachs Joplin office: 3101 McClelland Blvd
Aaron Sachs Springfield office: 3721 E. Battlefield, Suite 350
KODE News Station in Joplin
Wal-Mart at 15th and 7th Street in Joplin
Food 4 Less on E. 32nd St. in Joplin
Wal-Mart on Madison St. in Webb City
Ron's Supermarket on Centennial Dr. in Pittsburg, KS
All donations will go to support Souls Harbor in Joplin and Wesley House in Pittsburg, KS. Read on to learn more about the good work these organizations are doing in our community!
Souls Harbor: 915 S. Main Street, Joplin, MO 64801; 417-623-7927

Souls Harbor is a homeless shelter that welcomes people off the street and works to meet their spiritual, physical and material needs. In addition, the shelter offers services designed to help the homeless to find employment and establish themselves in the community: residents must apply for at least for at least 5 jobs every day. Souls Harbor helps its residents prepare for job interviews by supplying clothing and tutoring and by helping them to connect with career centers.
On average, the shelter provides about thirty boxes of food each day, with each box lasting about five days. However, recently, Souls Harbor reported a 30% increase in the number of new people seeking assistance. Donations are especially needed at this time of year.

Wesley House: 411 E. 12th Street, Pittsburg, KS 66762; 620-232-3760

Founded in 1982, Wesley House is an outreach mission of First United Methodist Church in Pittsburg, KS. Its mission is to help meet the needs of low-income people in Crawford County and to "reach out with God's love." Crawford County has "the distinction of being one of the counties in [Kansas] with the lowest income," with more than 60% of school-aged children qualifying for free or reduced meals.

Wesley conducts several ongoing programs and seasonal projects, including school supply distribution in the fall, but its primary program is the food pantry, which is open weekday afternoons from 1 to 3:30 pm.

Families must qualify for assistance after going through an application process to utilize the pantry's services. Once approved, these families can go to the pantry for food once every 30 days. Wesley House serves about 400 people each week: that's approximately 2500 pounds of food. They always welcome "M&Ms": meat and money. Canned meats are always in high demand.
Please give what you can this holiday season. Help us make sure all those in our community have a happy Thanksgiving this year! Attorney meetings by appointment only