A personal injury lawsuit filed against a Springfield MO trucking company highlights both the dangers of tractor trailers, and the ways that truck injury claims are different than auto accident claims. As is common in tractor trailer accidents, the victim is suing the both the truck driver and the trucking company he worked for. Springfield personal injury lawyers frequently need to explain to our clients why there might be more liable parties than just the truck driver, in any semi-truck accident.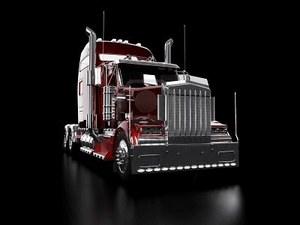 The lawsuit involves Donald W. Daniels, a disabled newspaper hawker who was struck by a tractor-trailer this past May. According to the suit, Daniels is seeking upwards of $150,000 in damages from Carlton Antonio Hight, the truck driver who hit him, and the company Hight is employed by, New Prime Inc. of Springfield.
Here's what Missouri injury lawyers now know about this case: Daniels, 52, was selling newspapers in the median at Silas Creek Parkway and Stratford Road on May 12. Because he is disabled, Daniels could not get out of the way of an oncoming tractor trailer--which apparently swerved out of its lane and ran right over his legs.
At the time, local police charged Hight, 37, with "failure to decrease speed to avoid colliding with a person" along with "failure to maintain lane control while driving a street with marked lanes."