Trucks. Semis. Tractor-trailers. Big rigs. Call them what you want, but they all have one thing in common. Danger! In 2009, there were more than 296,000 large trucks involved in traffic accidents on U.S. roadways, according to recently released statistics from the National Highway Traffic Safety Administration (NHTSA).
These large trucks were involved in traffic accidents that killed nearly 3,500 people. Another 74,000 people were injured in accidents that involved one of these big vehicles. A large truck is classified as a motor vehicle that has a gross vehicle weight rating of more than 10,000 pounds.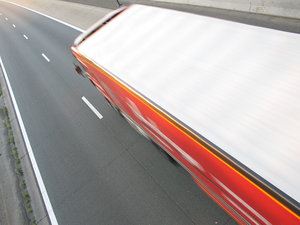 Occupants of passenger vehicles, like you and I, are most likely to be killed in a trucking accident in Kansas City or elsewhere. Of the deaths that occurred from the 2009 accidents, about 75 percent occurred to the occupants of the vehicle other than the truck, about 10 percent happened to nonoccupants and about 15 percent of fatalities occurred to the driver of the large truck.
Our Kansas City trucking accident attorneys understand the threats that trucks pose to passenger vehicles on our roadways. In 2008, these large vehicles only accounted for about 3 percent of all of the registered vehicles on U.S. roadways and about 8 percent of the total vehicle miles traveled. Yet these trucks accounted for nearly 10 percent of all motor vehicles that were involved in fatal accidents and about 5 percent of all vehicles involved in accidents that resulted in both injury and property damage.
Drinking and driving by drivers of large trucks is also a danger. The NHTSA reports that there was a 2 percent jump in the number of drunk (0.08 BAC) truck drivers involved in fatal accidents from 2008 to 2009.
They may be boozing behind the wheel, but truck drivers typically have better driving records than drivers of passenger vehicles. According to the NHTSA, only 7 percent of drivers of large trucks had a previous license suspension or a license revocation. About 15 percent of passenger vehicle drivers have a dirty record.
But these statistics flop when a fatal accident is involved. Approximately 21 percent of truck drivers that were involved in a deadly accident in 2009 had at least one speeding traffic conviction on their driving record. Only 19 percent of passenger-car drivers that were involved in a fatal accident in 2009 had at least one of these convictions on their record.
There were nearly 100 large trucks involved in fatal traffic accidents in the state of Missouri in 2009.
To help reduce the number of these deadly accidents, the Missouri Department of Transportation offers drivers these safety tips:
-Keep an eye on the road. Being aware of your surroundings is one of the most efficient ways to reduce your risks of an accident.
-Don't pull in front of or cut off a large truck. These vehicles take much longer to stop. Pulling in front of them increases your risks of being rear ended.
-Stay out of blind spots. Trucks have large blind spots in which the driver is unable to see another vehicle. When traveling near a big truck, make sure you can see the driver at all times. If you're unable to see them, they surely can't see you.
-When you're passing a large truck, don't linger beside it. Pass swiftly.
-Don't try to squeeze in. Trucks are required to swing wide in order to make turn. Don't try to fit in between a truck and a curb as you could get stuck there.
-Don't follow too closely, especially on a hill. Trucks maneuver differently than passenger vehicles. Make sure to allow them with plenty of room.