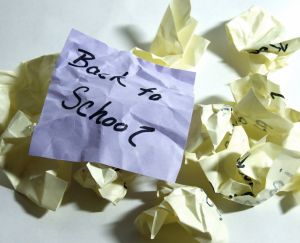 As all Columbia MO parents and school age children know, the school year is back in session. Columbia car accident lawyers agree with the need for the press release sent out on Aug. 17th by the Missouri State Highway Patrol. It reminds all Columbia and other Missouri motorists that because the school year has begun, students will be on the move, walking, bicycling and driving to their respective schools. The release asks all drivers to stay alert and take special care for students, particularly anywhere near bike paths, schools or playgrounds.
We know that as school buses and parents driving their kids to school take to Columbia and Jefferson City's roads, that will impact morning and afternoon commute times, so please leave a bit of extra time to get where you need to go.
The first auto accident of the school year has already been reported on August 18th. A dump truck collided with an SUV at Route K and Old Plank Road, injuring the two students in the SUV who were on their way to start their first day of the new term.
The student who was driving the SUV turned left onto Old Plank Road and was T-boned by a dump truck, according to Boone County Fire Division Chief Gale Blomenkamp. The truck rolled over with the driver inside, but he was able to get out without the firefighters help. The passenger in the SUV was also trapped, requiring emergency crews to remove part of the SUV's roof and even peel away the doors to free her. The rescue operation took most of an hour. All three casualties were taken to Columbia's University Hospital, but fortunately none of their injuries was life threatening.
The Missouri Highway Patrol reports that afternoons are even more dangerous for traffic accidents than mornings. In 2010, a majority of auto accidents involving drivers under 21 happened between 3 p.m. and 4 p.m.--the time when most schools get out. MSHP warns all drivers of any age to be aware of the increased traffic during this time.
Please remember, young drivers are simply not as experienced. They may have only had their license for a few months; it could be their first car. Here are some of the Highway Patrol's tips for younger drivers:
1. Pay attention to the road--driving is a full-time job.
2. Distracted driving such as talking on a cell phone, texting, or even changing the radio station adjusting may quickly lead to an auto accident.
3. Texting is now illegal for drivers under the age of 21.
4. Stay alert for stopped school buses, and follow their indicators. Watch for any children who might dart around the bus into the street.
"In 2010, five people were killed and 465 people were injured in school bus crashes. Missouri experienced 972 traffic crashes involving school buses last year," said Colonel Ron Replogle, superintendent of the Highway Patrol. "Let's help our children get to school safely. It's important for drivers to pay attention, especially in areas where schoolchildren are traveling to and from Missouri's schools. I also encourage parents to talk to their children about riding a bus or walking to school in a safe manner. If they ride a bike, please make sure they wear a helmet and follow traffic laws. Our children are our future. Let's protect them."
Columbia auto accident lawyers have seen too many cases of young people injured in traffic accidents heading to and from school. We join the MSHP in urging all drivers, whether young or old, experienced or not, to take great care on Columbia's roads now that school is back in session.
Attorney meetings by appointment only