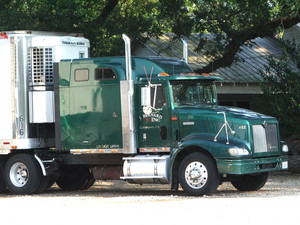 Traveling in and around the Kansas City area means drivers must share the road with large semi-trucks, often on highways and interstates and at high speeds. In this post, our Missouri car accident lawyers discuss a few basic facts about semi-trucks, and recommend some precautions drivers can take to avoid collisions with these large vehicles.
Semi-trucks can weigh 20 to 30 times as much as passenger vehicles. Because of this discrepancy in size and weight, passenger vehicle occupants are particularly vulnerable to injuries when they're involved in collisions with large commercial trucks. Of people who died in 2010 crashes involving a semi and a passenger vehicle, 97% were occupants of the passenger vehicles. In addition, semis are much taller and have greater ground clearance, so it can be harder for truck drivers to see smaller vehicles traveling near them.
Semi-trucks have much larger blind spots than passenger vehicles. Semi-truck drivers have to deal with oversized blind spots created by the size of their trucks and trailers. These blind spots, also known as "No Zones" can be especially treacherous for the drivers of smaller cars and trucks. When you're traveling near a semi, remember that the vehicle has large "No Zones" on the side of the truck (from the back of the cab to the trailer), behind the truck, and immediately in front of a truck. Avoid lingering in these areas, especially when passing. And remember that semi-trucks don't have rearview mirrors, so they count on their side mirrors. If you can't see a trucker's mirrors, he probably can't see you.
Semi-trucks require more time and distance to stop than passenger vehicles. According to the Insurance Institute for Highway Safety, a fully loaded tractor trailer needs 20 to 40% farther to stop, and they require even more space when the trailer is empty. Be sure to allow plenty of extra space between your vehicle and semi-trucks traveling near you. Don't follow too closely, and avoid cutting in front of big trucks. Many semi-truck accidents happen when a trucker simply isn't able to stop in time to avoid a collision.

Semi-trucks need more room to turn corners. Especially when making right turns, semi-truck drivers may need to swing the truck wide into another lane in order to negotiate the vehicle around the corner. Be cautious as you approach a turning truck, and never try to pass on the right as a truck prepares to turn. Remember, as the trucker executes the turn, the only thing he'll be able to see in his side mirrors is his trailer, so attempting to pass could be a deadly mistake.

At Aaron Sachs & Associates, P.C., our personal injury lawyers represent truck accident victims in Kansas City, Missouri, and throughout the surrounding areas, including Lee's Summit, Independence, Blue Springs, Liberty, Cameron, Trenton, Bethany, Warrensburg, Holden, Higginsville, Lexington, Brookfield and Chillicothe. Our attorneys work on a contingent-fee basis, and we offer a free initial consultation to discuss your case. To schedule an appointment, please call us toll-free at 1-855-695-1426, or visit our website.
Attorney meetings by appointment only