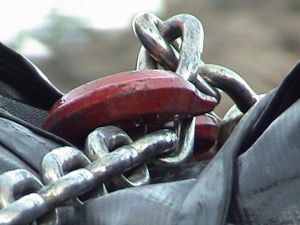 A truck driver has been sentenced to eight years in prison in connection with a fatal St. Charles County crash caused by improperly secured cargo. According to the St. Louis Post-Dispatch, 28 year-old Adam L. Steinmann received the sentence after he was convicted in August of two counts of involuntary manslaughter and a misdemeanor count of driving with a suspended license.
The crash in question happened on Highway D on July 9, 2009. Police say Steinmann was traveling east, hauling a 42,000-pound bulldozer. As he negotiated a curve in the roadway, the bulldozer fell from his truck trailer. It hit the road, bounced, and struck the driver's side westbound car, essentially crushing the smaller vehicle. The driver of that car, 63 year-old Judith Ulery, died 44 days after the accident. Ulery's passenger, her 86 year-old mother Elsie Sherman, died nine months later.
During Steinmann's trial, prosecutors pointed out that the bulldozer had been secured with only two binders, which were "grossly inadequate" to handle such heavy machinery: the total support weight for those binders was reportedly 14,000 pounds. An expert witness "testified at the trial that the total weight should have been half the weight of the item being secured," reports Land Line Magazine. In addition, the binders were in poor condition: one had been broken and repaired, and the hooks attached to the binders were not the same size.
Assistant Prosecutor Meg Eveland also argued that Steinmann was speeding around the dangerous curve in a truck that had 26 violations on record. The curve in question is marked with cautionary signs that indicate a reduced speed limit of 30 miles per hour - and Eveland maintained that the speed limit was really intended for smaller passenger vehicles. Given the size and weight of Steinmann's truck, he should have been traveling even slower than the posted limit, Eveland said. The prosecution's expert testified that Steinmann was traveling about 42 miles per hour when the bulldozer fell off his trailer.
Steinmann received four years in prison for each of the manslaughter charges, which is the maximum allowable sentence for the offense. He will serve those terms consecutively. In addition, following the hearing, Steinmann received an additional year in jail because he was on probation at the time of the crash. In 2005, Steinmann was charged with two felony counts of property damage after he drove over two private lawns in Wentzville.
Last month, family members of Ulery and Sherman were awarded a $345,000 judgment in a wrongful death lawsuit against Steinmann; his father, Larry Steinmann; their business, Steinmann & Sons Grading, Inc.; and the owner of the bulldozer, Lester Lamke.

At Aaron Sachs & Associates, P.C., our personal injury lawyers represent the victims of auto accidents in Kansas City, Missouri and throughout the surrounding areas, including Independence, Lee's Summit, Blue Springs, Greenwood, Liberty, Excelsior Springs and Gladstone. We work on a contingent fee basis, and we offer a free initial consultation to discuss your case. To schedule an appointment, please call us toll-free at 1-888-777-AUTO. You can also visit our website to learn more about our firm, or to contact us online.
Attorney meetings by appointment only