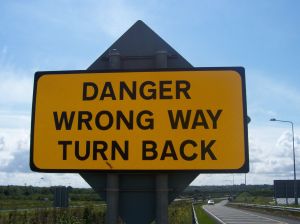 A California man is being sued for wrongful death in connection with a fatal wrong-way crash that killed a mother of four. According to the Santa Cruz Sentinel, the lawsuit names the surviving driver, 28 year-old Eric Weers; his father; and the Santa Cruz Community Counseling Center.
On July 11, 2011, Weers reportedly drove north off an exit into the southbound lanes of Highway 17. Several drivers swerved to avoid his vehicle, but within moments Weers struck a 1999 Chrysler Concorde head on. The driver of that vehicle, 49 year-old Ana Barajas, was pronounced dead at the scene of the crash.
Weers was uninjured in the collision. When law enforcement officials responded to the accident, Weers allegedly said that he drove the wrong way on purpose, with the intent of causing injury to a random victim. He was arrested and subsequently charged with first-degree murder.
In January 2012, Weers appeared in court and pleaded not guilty by reason of insanity. His attorney says Weers had been diagnosed with schizoaffective disorder and was being treated for the illness at the time of the accident. In 2010, Weers was reportedly prescribed five separate psychiatric drugs, but his attorney claims he had not been taking his medication in the week leading up to the crash.
Weers is currently in the process of undergoing a required psychiatric evaluation, which is required for an insanity defense. A jury will hear the results of the evaluation and decide whether or not Weers was mentally capable of controlling his behavior. If he is found to be insane, he will most likely be transferred to a mental health facility, the Sentinel reports. Otherwise, he will stand trial for murder.
The wrongful death lawsuit against Weers was filed by Barajas's four surviving children. It seeks damages from Weers and his father, who owned the vehicle Weers was driving when the crash occurred. It also alleges that the staff at the Community Counseling Center failed to exercise ordinary standards of care, maintaining that "staff knew, or should have known, that Weers was a reckless driver who disobeyed traffic laws, and that he was likely to injure someone while driving."

In Missouri, victims' family members can sue for wrongful death when a person or company would've been liable for the victim's personal injuries if the accident or incident had not resulted in death. A plaintiff would need to demonstrate the following facts to be successful in a wrongful death case:
1. The plaintiff is related to the victim, as required by Missouri law;
2. The defendant was negligent; and
3. The defendant's negligence ultimately caused the victim's death.
At Aaron Sachs & Associates, P.C., our car crash lawyers serve the victims of Missouri accidents. We represent clients in Columbia, Jefferson City, Ashland, Moberly, Fulton, Centralia, Kirksville, Boonville and Eldon. If you or a loved one has been injured as a result of another driver's negligence, we may be able to assist you. Our attorneys work on a contingent fee basis, and we offer a free initial consultation to discuss your case. To schedule an appointment, please call us toll-free at 1-888-777-AUTO, or visit our website.
Attorney meetings by appointment only