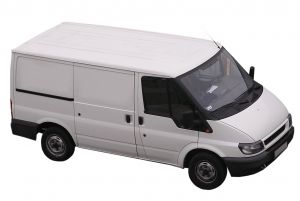 Over the weekend, a total of 24 people were injured in two separate Missouri auto accidents involving passenger vans.
On Saturday evening, 11 people were hospitalized after a church van crashed on U.S. 65, just north of Branson. According to the Missouri Highway Patrol, 26 year-old Charles Barnett was behind the wheel when the van hit a median and flipped over. All of the van's occupants - eight teens and preteens; two adults; and one small child - suffered minor to moderate injuries, and all were taken to Springfield hospitals. Barnett was wearing a seat belt and his 2 year-old son was in a safety seat. No one else in the vehicle was buckled up.
Then, on Sunday, 13 people were injured when a commercial-sized van turned in front of an oncoming car in Scott County. It happened on Highway 77 at Interstate 55 just after 1:00 p.m. The driver of the van, 23 year-old Rachel Irvine, attempted to make a left turn and pulled into the path of a Honda Civic. Authorities say 11 of the van's occupants - one adult and 10 children ranging from age 9 to age 16 - were transported to a Cape Girardeau hospital with minor injuries. They were all wearing seatbelts. In addition, the occupants of the Civic - the driver and a passenger, both age 21 - suffered moderate injuries in the crash.
Passenger vans are commonly used by church groups, colleges and other organizations. According to the National Highway Traffic Safety Administration (NHTSA), passenger vans are different from other kinds of passenger vehicles in several ways. A passenger van tends to be longer, higher and wider - which means they "require additional reliance on the side mirrors for changing lanes, more space, additional braking distances, and have a higher risk of crashes and rollovers if not properly driven and maintained." Federal data indicates that inexperienced drivers, improperly loaded cargo, and tire problems commonly contribute to accidents involving these vehicles.