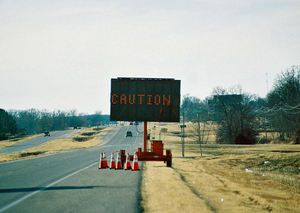 On Monday, a Missouri man pleaded guilty to leaving the scene of an injury crash in connection with a St. Louis accident that killed a tow truck driver. According to the St. Louis Post-Dispatch, 21 year-old Aaron Bogue will appear in court for sentencing on December 7.
Police say Bogue struck and killed 51 year-old David Bense Sr. on Interstate 70 near West Florissant Avenue. Bense, a tow truck driver for AAA, had stopped on the shoulder of I-70 to assist a motorist on his last call of the night. At about 9:20 p.m., Bense was putting cones and flares around a disabled vehicle on the highway when he was hit by an eastbound motorist. The vehicle - a white sedan - did not stop after the collision. However, another driver who witnessed the crash followed the sedan and contacted police.
Ultimately, law enforcement officials located Bogue near the intersection of 11th Street and Salisbury Street. His vehicle was seriously damaged and Bense's blood was found on it. At the time of his arrest, Bogue told officers that he thought he had hit an animal on the interstate.
Authorities say Bogue has an extended criminal record, including convictions for burglary, property damage and drug possession. In addition, the Post-Dispatch reports that Bogue has a pending St. Louis County charge for fraudulent use of a credit card.
Leaving the scene of an accident causing injury carries a minimum penalty of one day in jail and a maximum penalty of four years behind bars. Bense's wife and other family members recently met with prosecutors, as the family was unhappy that Bogue hadn't been charged with more serious offenses. After his arrest, Bogue was tested for drugs and alcohol, but the results were reportedly inconclusive.
"Over the past several months, a thorough investigation was conducted and we exhausted every possible scenario to ensure Aaron Bogue was charged with the highest charge under Missouri state law and held accountable to the fullest extent of the law, given the circumstances and evidence available in this matter," the prosecuting attorney's office said in a recent statement.