On Friday, a Missouri woman was killed when she was struck by three vehicles on southbound U.S. Highway 71 near Harrisonville. According to the Lee's Summit Journal, 33 year-old Joy Johnson got out of her car after a tire blowout caused her to lose control of her vehicle and crash into the median cables. At around midnight, a witness says Johnson was standing in the left lane inspecting the damage when she was clipped by the mirror of a passing SUV. The impact knocked her to the ground, where she was then struck by two more SUVs.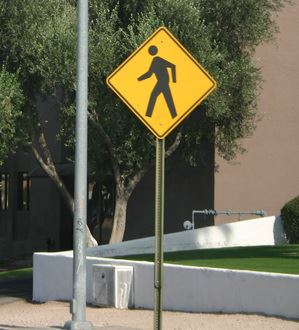 Johnson was pronounced dead at the scene. All three drivers stopped following the accident. No one has been cited or charged in connection with Johnson's death, but the Missouri Highway Patrol is continuing to investigate the incident.
This year, 128 pedestrians have died in Missouri auto accidents, including ten people who were standing, lying or sitting on the roadway. In April, an AAA tow truck driver was killed by a hit and run driver as he assisted a motorist on eastbound Interstate 70 in St. Louis. In August, an 18 year-old tow truck driver was hit by a box truck near the Christopher S. Bond Bridge in Kansas City. In September, a MoDOT worker died when a drunk driver struck him as he worked a crash scene on I-70 near Independence. And just over a week after that accident, a Kansas City man died on I-35 when he was hit by car while putting gas in his stalled truck.
In light of pedestrian accidents like these, the Missouri Highway Patrol is encouraging drivers to use precaution when their vehicles become disabled - and when they encounter disabled vehicles, especially on fast-moving highways. "People need to always be aware of constantly changing traffic conditions, whether it is a law enforcement officer on the side of the road, or a stranded motorist, making the highest degree of care," said Highway Patrol Sergeant Collin Stosberg. "We want to keep everyone safe - that's what we're here for. We are going to respond in every situation to help people out. We do that on a daily basis, so people should not be afraid utilize law enforcement as that resource."
If your vehicle breaks down or you're involved in a crash, the Patrol says you should remain in your vehicle and wait for help, when possible. However, if your vehicle is stalled in the roadway and cannot be moved, Stosberg says you should get out of the vehicle and get as far away from it - and from traffic - as you possibly can. You can contact nearby troopers by calling 911 or *55 from your cell phone.
Facts about pedestrian crashes:
• In 2010, 4,280 pedestrians were killed and 70,000 were injured in auto accidents nationwide, according to the Insurance Institute for Highway Safety. Pedestrians accounted for approximately 13% of all traffic fatalities.
• 73% of 2010 pedestrian deaths occurred in urban areas, and 72% occurred on major roads, including interstates and freeways.
• The majority of fatal pedestrian accidents - about 70% occurred in the evening hours between 4:00 p.m. and 4:00 a.m.
At Aaron Sachs & Associates, P.C., our personal injury lawyers serve clients in Kansas City, Missouri and throughout the surrounding areas. To contact our office, call 1-888-777-AUTO or visit our website.
Attorney meetings by appointment only