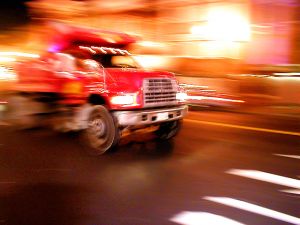 On Tuesday morning, more than two dozen people were hospitalized with injuries after a driverless dump truck sideswiped a Los Angeles County transit bus, sending the bus careening into a BMW on Hollywood Boulevard. According to KTLA, an unmanned dump truck was reportedly parked on a nearby street when its brakes apparently went out, sending the truck rolling directly into oncoming traffic, where it T-boned a westbound Metro Rapid Line 780 bus with 25 to 30 passengers on board. The bus driver swerved in an attempt to avoid a collision, and the bus veered into the eastbound lanes of the roadway and struck a BMW head on, leaving the smaller vehicle wedged under the bus's front end.
"I was in the middle and I stood up and I just see everyone fall off their seats," Jose Castellanos, a passenger on the bus, told KABC. "Everyone was falling. I was the only one standing up holding on to the rail. There was screaming and I just hear a pop and all the windows just...I don't know. It was scary."
The driver of the BMW - a mother, driving her 10 year-old daughter to school - suffered the most serious injuries. She was trapped in the vehicle for about 20 minutes following the crash, and firefighters had to extricate her through the roof of her car. "It was quite a technical extrication requiring not just our fire companies, but also our Urban Search & Rescue rig and our Heavy Rescue," said Wes Elder, Los Angeles Police Department Battalion Chief.
The woman sustained a fractured leg along with other undisclosed injuries: she is currently listed in serious condition at Cedars-Sinai, but she is expected to recover. Her daughter, who was riding in the back seat of the BMW, was taken to a pediatric hospital with minor injuries.
It's unclear exactly how many bus passengers were injured, as there are conflicting reports from local news outlets. In all, it appears that at least 27 passengers suffered varying injuries. Several were treated at the crash site, and at least 15 were eventually taken to local hospitals by ambulance. Three passengers declined treatment and were released at the scene. The bus driver was among those transported: she reportedly suffered minor injuries in the crash.
No word yet on what factors may have caused the problem with the dump truck's breaks. Law enforcement officials continue to investigate the incident.

Because they're so much bigger and heavier than passenger cars and trucks, collisions involving large, commercial vehicles can be especially dangerous, often resulting in serious, life-threatening injury. The Federal Motor Carrier Safety Administration (FMCSA) reports that 3,380 people were killed and approximately 74,000 were injured in large truck crashes in 2009. An additional 254 bus passengers were killed and an estimated 20,000 suffered injuries in 2009 bus crashes.
At Aaron Sachs & Associates, P.C., our personal injury lawyers represent the victims of Missouri trucking accidents. If you've been injured in a collision with a large truck, we may be able to assist you. Our firm maintains offices in Springfield, Joplin, Columbia, Cape Girardeau and Kansas City, and we offer a free initial consultation to discuss your case. To schedule an appointment, please call us toll-free at 1-888-777-AUTO, or visit our website.
Attorney meetings by appointment only