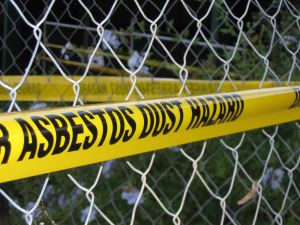 This week, the Occupational Safety and Health Administration (OSHA) cited an Illinois company for five safety violations connected to asbestos. According to the San Francisco Chronicle, Johnson Controls Inc. in Kankakee is facing fines totaling $59,400 for the violations. After an investigation of the company's work on an AT&T building, OSHA officials determined that Johnson Controls failed to meet the following safety standards:
• "perform air monitoring and conduct exposure assessments";
• "use appropriate engineering controls and work practices, including having a competent person supervising the work";
• "establish barriers or [use] impermeable drop cloths; require employees to wear appropriate respirators and use protective clothing";
• "properly dispose of material containing asbestos";
• "implement a training program for employees performing Class II asbestos work"
The company received four serious violations and one repeat violation. Serious violations are issued "when there is substantial probability that death or serious physical harm could result from a hazard about which the employer knew or should have known." Repeat violations are issued "when a company has been cited for the same or a similar violation of a standard, regulation, rule or order at any other facility" within a five year time period. OSHA officials report that Johnson Controls was previously cited for failing to train employees working with asbestos in 2007.
"Johnson Controls has a responsibility to provide training and safety equipment such as respirators to workers tasked with performing asbestos work," said Gary Anderson, director of OSHA's Calumet City Area Office, in a recent news release. "Repeat violations demonstrate a lack of commitment to worker safety and health. OSHA is committed to protecting workers on the job, especially when employers fail to do so."