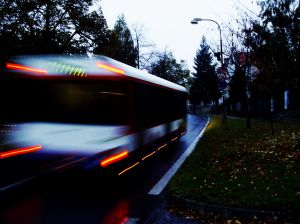 The Federal Motor Carrier Safety Administration (FMCSA) has issued an advisory bulletin to motorcoach companies following a series of passenger bus crashes caused by blown out tires. In particular, the bulletin was prompted by a federal investigation into a fatal Megabus crash in southern Illinois on August 2nd. In that accident, a double-decker bus traveling from Chicago to Columbia struck an interstate bridge support pillar. Aditi Avhad, a 25 year-old Mizzou student, was killed. At least 38 others were injured.
A Megabus spokeswoman has since confirmed that the bus was at full capacity, carrying 81 passengers when the crash occurred. In addition, investigators say that a blown tire likely caused the bus driver to lose control of the vehicle and collide with the support pillar. According to FMSCA officials, there's a clear connection between the bus's weight and the tire's failure: "A tire on a motorcoach loaded beyond its weight rating, operated at highway speeds for a significant period of time, is more likely to overheat and fail, potentially placing the safety of passengers and other motorists at risk," FMCSA's advisory bulletin said. For this reason, the Administration is urging motorcoach companies to make tire maintenance a top priority; to closely monitor vehicle loading; and to ensure they are in compliance with tire weight ratings and state vehicle weight limits.
Less than a week after the Illinois crash, a different Megabus caught fire near Lavonia, Georgia after a tire blowout. No one was injured. However, authorities noted a few key similarities between the two Megabus incidents, report that both vehicles were heavily loaded with passengers and luggage, and both were operating in extremely warm temperatures. FMCSA officials say these conditions directly contribute to tire stress, especially in double-decker buses: "Under specific circumstances motorcoaches utilizing the double-deck design may be susceptible to exceeding the tire weight limit when loaded with passengers and luggage at full capacity," the bulletin said.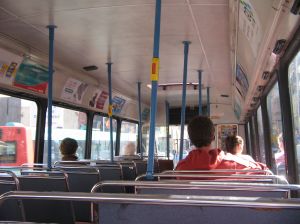 The Administration recommends that consumers investigate bus companies thoroughly when planning a trip. To choose a safe carrier, FMCSA encourages you to verify a carrier's safety performance history, safety rating, operating authority and insurance requirements. You can find more information - and useful tips - via the bus/passenger carrier information page on FMCSA's website.

"Our mission is to prevent crashes, injuries and fatalities involving large trucks and buses," said Anne S. Ferro, FMCSA Administrator, in the bulletin. "That is why we are asking each bus company to put safety first by paying careful attention to their procedures for checking tire pressure and loading passengers and luggage, in order to ensure the safety of travelers."



At Aaron Sachs & Associates, P.C., our truck accident lawyers represent injury victims throughout the state of Missouri. For your convenience, we maintain offices in Springfield, Joplin, Columbia, Cape Girardeau and Kansas City, and we offer a free initial consultation to discuss the details of your case. To schedule an appointment, please call us toll-free at 1-888-777-AUTO. In addition, you can

visit our website

to learn more about our firm or to contact us online.



Attorney meetings by appointment only