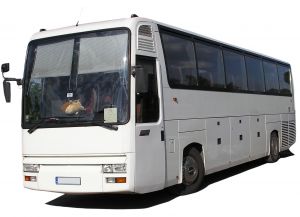 Our Missouri personal injury lawyers know that bus accidents can have catastrophic consequences for passengers. Sadly, all too many of these crashes are caused by unsafe motorcoach companies and their drivers. Over the past two months, the Federal Motor Carrier Safety Administration (FMCSA) has shut down 15 bus companies nationwide, including seven passenger carriers that were declared imminent hazards to public safety and eight that received "unsatisfactory" ratings following safety compliance reviews.
According to a FMCSA news release, the agency recently deployed "more than 50 specially trained safety investigators throughout the country to begin targeted and in-depth inspections of higher risk motorcoach companies." This crackdown on bus safety comes in the wake of several recent bus accidents that resulted in multiple injuries and fatalities.
• March 2013, Pennsylvania: Three people were killed and three others were hospitalized with injuries when a bus carrying the Seton Hill University women's lacrosse team ran off the road and crashed into a tree. Among the dead were the team's coach, who was six months pregnant; her unborn child; and the bus driver. Investigators say there were no intoxicants found in the driver's system and suspect he may have suffered a sudden traumatic medical event.
• February 2013, California: A tour bus rear-ended a car as it descended a mountain road near Big Bear, causing the bus to overturn and collide with a pickup truck pulling a trailer. Eight passengers were killed and 38 were injured in the accident. The driver, who survived the crash, reportedly told police that the bus experienced brake problems as it traveled down the mountain.
• December 2012, Oregon: Nine people died and 39 were injured when a tour bus skidded off an icy highway and slid down a 200-foot embankment. An investigation found that the bus driver was traveling too fast for roadway conditions and had been on duty for 92 hours in the week leading up to the crash, exceeding the federal limit of 70 hours.
• August 2012, Illinois: A Megabus traveling from Chicago to Kansas City crashed into a concrete median on Interstate 55, killing a University of Missouri student and injuring 38 other passengers. According to the Illinois State Police, the accident was caused by a blown tire on the double-decker bus, which was loaded to capacity. The crash prompted a FMCSA bulletin about weight limits for tires on fully-loaded buses.

If you're thinking of planning a bus trip, we encourage you to download FMCSA's SaferBus app, which will allow you to research a company's safety record before purchasing your tickets.
At Aaron Sachs & Associates, P.C., our personal injury lawyers represent auto accident victims throughout the state of Missouri. If you've been injured in a crash involving a bus, semi-truck, or other large commercial vehicle, we may be able to assist you. Our attorneys work on a contingent-fee basis, and we offer a no-cost, no-pressure consultation to discuss your case and answer your questions. To schedule an appointment, call us toll-free at 1-888-777-AUTO, or visit our website to contact us online. Offices in Springfield, Joplin, Columbia, Cape Girardeau and Kansas City.
Attorney meetings by appointment only