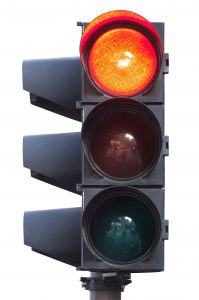 As Missouri personal injury lawyers, we know that semi-truck accidents often result in serious, life-threatening injuries. All too often, the victims of these devastating crashes are innocent motorists who were simply in the wrong place at the wrong time. Because of their massive size and weight, a semi-truck can be a deadly weapon, especially when it's operated by a careless or negligent driver. One disturbingly common factor in crashes involving large trucks is the problem of driver fatigue. To address this problem, Federal regulations govern the amount of time drivers are allowed to spend behind the wheel. Unfortunately, truckers and trucking companies sometimes don't follow the rules, often with tragic consequences. Studies show that truck drivers who have driven for more than eight consecutive hours are more than twice as likely to crash.
A local accident just last week proved how deadly these accidents can be. After causing a chain reaction crash that killed two men on Highway 60 in Republic, a California truck driver is now behind bars, charged with two counts of involuntary manslaughter. According to the Missouri Highway Patrol, 31 year-old Lei Sun had driven more than 70 hours within the previous seven days when he rear-ended a car and a pickup truck that had stopped for a traffic signal, crushing both vehicles between his semi-truck and another semi-truck that was stopped in front of them. Both men were killed instantly: 41 year-old Corey Gresham of Macon, and 65 year-old Lawrence Coan Jr. of Kimberling City.
Investigators say Sun was going 60 in a 45 mile-per-hour zone at the time of the crash. His truck never slowed prior to impact. "I don't know what happened with the driver," Gene Weedin, witness to the crash, told KY3. "Obviously he was doing something other than driving the truck."
Facts about fatigue and semi-truck drivers:
• Data from the Federal Motor Carrier Safety Administration (FMCSA) indicates that truck drivers average less than five hours of sleep each night. By contrast, adults require seven to nine hours of uninterrupted sleep each night.
• Sleep loss affects driving performance in a way that's similar to alcohol use. After being awake for 24 hours, the effect on a truck driver is equivalent to having a blood alcohol content of 0.10%.
• In an FMCSA survey, one in four truck drivers admitted to falling asleep while driving within the previous 30 days.
Semi-truck accident claims can be extremely complicated, largely because there are often multiple parties involved - including the truck driver, the truck owner, the driver's employer, a leasing company and/or a shipper that selected the trucking company. As a result, there may be multiple or different sources of recovery requiring different claims of liability against the various parties. Agreements between the parties as well as various insurance policies can complicate recovery as well. Further, there are different types of evidence that are important and need to be quickly recovered such as driver logs, drug test results, fuel receipts and black boxes, just to name a few.
Ultimately, because these crashes often result in serious, life-threatening injuries, the consequences are often numerous and far-reaching for both the victims and their loved ones. Under these circumstances, accident victims and their families need an attorney who can ensure their rights and interests are protected.