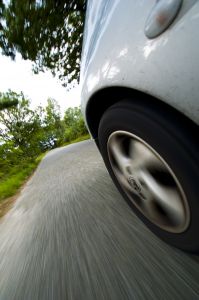 A recent poll conducted by the National Highway Traffic Safety Administration (NHTSA) indicates that, at any given moment, there are an estimated 660,000 distracted drivers on U.S. roads. What's more, research conducted by Erie Insurance suggests that the most common forms of distraction come from places you might not expect. The insurer analyzed police report data from the 65,000 car accident deaths that occurred in 2010 and 2011, and found that about 10% of those crashes involved distraction as a contributing factor. So, what were the sources of that distraction? In this post, our Cape Girardeau personal injury lawyers discuss a few of the top offenders on Erie's list.
Top ten distractions that cause car accidents in Missouri and nationwide
1. Being "lost in thought" or daydreaming: 62%
Shockingly, Erie's analysis revealed that the vast majority of distraction-related accidents are caused by drivers who are simply "zoning out" while behind the wheel. Letting your mind wander while driving is common, especially for people who spend a lot of time driving. However, doing so can cause you to veer out of your lane, miss your exit, or fail to recognize a roadway hazard in time to react.
2. Using a cell phone (talking, texting, etc.): 12%
It's no secret that cell phone use is a common source of driver distraction. According to NHTSA, using a handheld or hands-free phone behind the wheel delays a driver's reactions as much as a blood alcohol content of 0.08%. Texting is even more dangerous, because it involves three key types of distraction: manual (hands off wheel), visual (eyes off road), and cognitive (mind off driving). A texting driver's crash risk is 23 times that of a non-texting driver.
3. Focusing on an external object or event: 7%
Billboards, buildings and other roadway objects are common external sources of distraction for drivers. Another common cause of accidents is "rubbernecking," which refers to the practice of slowing down and staring at auto accidents, drivers who have been pulled over, and other roadway situations.
4. Paying attention to other vehicle occupants: 5%
Passengers can create an extremely dangerous form of distraction. According to the AAA Foundation for Traffic Safety, parents should be especially careful: young children are reportedly four times more distracting than adults, and infants are eight times more distracting. Teen drivers are also particularly vulnerable to passenger distractions. The Children's Hospital of Philadelphia reports that a teen driver's already-high crash risk more than triples when there are two or more peer passengers in the vehicle.
5. Using or reaching for an object or device brought into the vehicle (2%)
Whether you're using a GPS system or trying to grab a dropped object, "reaching-related" tasks often require you to take your hands off the wheel and your eyes off the road. You may think you're only looking away for a second, but a second is all it takes.

The following forms of distraction rounded out Erie's top ten list: eating or drinking (2%); adjusting the vehicle's audio or climate controls (2%); using other in-vehicle devices (1%); concentrating on a moving object in the vehicle (1%); and smoking (1%).
The personal injury lawyers at Aaron Sachs & Associates, P.C. represent car accident lawyers throughout the state of Missouri. If you or a loved one has been injured in a class caused by a distracted or impaired driver, you may be entitled to compensation for your losses and damages. Contact our office today to discuss your legal rights and options with an experienced attorney: call us toll-free at 1-888-777-AUTO, or submit our easy-to-use "Do I Have a Case?" form via our website. Serving clients in Cape Girardeau and the surrounding areas, including Perryville, Poplar Bluff, Sikeston, Ste. Genevieve, Dexter, Jackson, Kennett and New Madrid.
Attorney meetings by appointment only