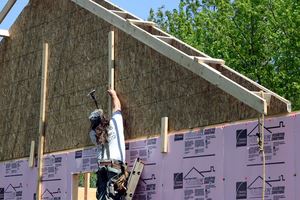 As Missouri workers' compensation lawyers, we know that private construction workers can be particularly vulnerable to on-the-job injuries. According to the Occupational Safety and Health Administration (OSHA), workplace falls are one of the common causes of workplace injuries, especially among employees in residential construction. Because falls have become such a serious safety issue in recent years, OSHA officials created fall protection guidance which aims to prevent fall-related injuries - and fatalities. According to the most recent data, falls are the number one cause of death for workers in the construction industry.
According to the Compliance Guidance for Residential Construction, employers are required to make sure that residential construction employees are provided with the appropriate fall protection. OSHA issued these guidelines in December 2010 and employers are now required to meet their official Fall Protection in Construction standard. This document contains a number of work methods that an employer can use for assistance in complying with this standard and the full scope of its requirements.
"Fatalities from falls are the number one cause of workplace deaths in construction," said Assistant Secretary of Labor for Occupational Safety and Health Dr. David Michaels. "We cannot tolerate workers getting killed in residential construction when effective means are readily available to prevent those deaths."
This OSHA directive illustrates a number of methods that should be used to preserve the safety of employees throughout all stages of construction, although it mainly focuses on newer construction. Some of these methods include preventing fall-related injuries and deaths by using anchors for personal fall arrest systems and fall restraints, ladders, and scaffolds.
Serious injuries are distressingly common among residential construction workers. According to the Bureau of Labor Statistics, fatal work injuries in the private construction sector increased by 5% in 2012 with 775 deaths, up from 738 in 2011. Of those fatalities, 668 were the result of falls, slips or trips - and construction accounted for the largest number of work-related deaths of any industry sector in 2012.