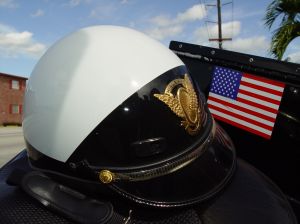 Carl Kinnison, former Cape Girardeau Chief of Police, will serve as the new director of Southeast Missouri State University's Law Enforcement. KFVS reports that Kinnison, who retired from the police department on July 31, will also teach criminal justice and sociology courses at the university. At present, Assistant Chief Roger Fields has been named interim chief, and he will serve the department while the city searches for Kinnison's replacement.
Kinnison spent 33 years with the Cape police department, serving the last seven years as its Chief. During his tenure, he made auto accident prevention a priority. Last year, Kinnison discussed the hiring of two additional officers in an interview with the Southeast Missourian, and he said the move was made in response to an increasing number of Cape crashes. "Our goal, our mission in life, is to keep those numbers down, and, more importantly, injuries and fatalities down," he said. "That's what we're trying to do."
In 2007, budgetary restraints caused city leaders to reduce police funding. This in turn forced the Cape Girardeau PD to eliminate two positions in the department's traffic division. Kinnison maintained that fewer traffic officers meant fewer tickets issued, which ultimately caused an increase in crashes: between 2007 and 2010, the number of traffic citations steadily declined, while the number of traffic accidents, including fatal car crashes, increased. In 2011, after reviewing Kinnison's data, the Cape Girardeau City Council restored funding to the police department, which allowed the department to hire the new officers.
Is there a connection between traffic citations and auto accidents?
On the surface, a decline in traffic citations might appear to be a good thing. After all, no one likes to get a ticket. In an ideal world, a drop in the number of tickets issued would simply mean that fewer drivers were breaking traffic laws. But in Cape, the numbers told a different story. In 2006, Cape Girardeau police officers issued 8,900 traffic citations. In 2010, they issued 5,587. Over roughly the same time period, traffic accidents rose by 4.5%.

Traffic officers are responsible for monitoring Missouri roadways, ensuring that drivers are following traffic laws. Traffic citations are issued for speeding, failing to yield, following too closely, improper passing, inattentiveness, and careless and reckless driving behaviors. In short these are the types of driving behaviors that define negligent, aggressive, and distracted driving practices. They also lead to dangerous accidents.
Our attorneys and staff commend Kinnison for his tireless efforts to keep Cape Girardeau motorists safe, and we wish him well as he trains new professionals to pick up where he left off.
At Aaron Sachs & Associates, P.C., our personal injury lawyers represent accident victims in Cape Girardeau and throughout the surrounding areas in southeastern Missouri, including Marble Hill, Poplar Bluff, Van Buren, Kennett, New Madrid, Perryville, Sikeston and Potosi. To schedule an appointment for a free initial consultation, please call us toll-free at 1-888-777-AUTO, or visit our website to contact us online.



Attorney meetings by appointment only