Joplin Missouri Personal Injury Firm Asks Everyone--Please Join Us in Contributing to Joplin Tornado Relief Efforts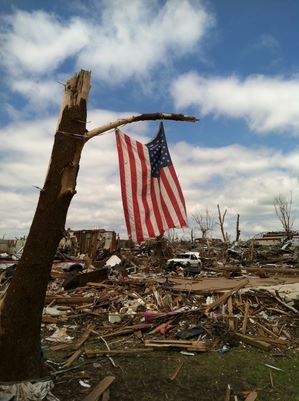 Here at Aaron Sachs and Associates Law Firm, we have been devastated to see the paralyzing and destructive impact Mother Nature has had on Joplin. Indeed, our Joplin office was in the area affected by the tornado and will require rebuilding.
As local Joplin attorneys, we've been privileged to work with and for the people of Joplin for more than a decade, and consider ourselves a part of this community. It is our devout hope that we will see a speedy rebuilding of our homes and businesses...our parks and schools...and that out of this disaster can come an even better community for our children.

Please join us in assisting the people of Joplin to reclaim their lives.
There is a huge amount of work to be done, both for the immediate needs of those affected by the tornado, and in the long term re-building of our city. FEMA says that the best way to be of assistance is with a cash donation.
Please check out our facebook page Facebook Page--Law Office of Aaron Sachs and Associates, P.C donated $25,000.00 to Joplin Disaster Relief. Please check out our facebook page, and join by "liking" it. (To do this you need to have your own Facebook account set up, or start one.)
We firmly believe that through resilience, strength and determination, today's challenges will become tomorrow's achievements. It has always been the practice of the Sachs Personal Injury Firm to participate in the community via public service programs and various charitable events and donations.
Please see our community service page for a full listing of organizations to donate to directly. These organizations are already providing practical relief in the form of shelter, food and whatever else is needed for the people of Joplin.
If you are in need of assistance yourself:
To register with FEMA http://www.fema.gov/assistance/index.shtm for assistance if you have been displaced by the tornado, go to one of these two Joplin Disaster Recover Centers:
1. Taylor Performing Arts Center, Missouri Southern State University, 3950 E. Newman Rd.
2. First Methodist Church, 501 W. 4th St.
Other Options for Disaster Aid
• You can also register online for federal and state disaster aid. http://www.disasterassistance.gov/
• FEMA's toll-free registration line is 1-800-621-FEMA (3362).
• The hearing or speech impaired may call TTY 1-800-462-7585, or use 711 or Video Relay Service (VRS) to call 1-800-621-3362.
We have always believed that the heart and strength of a community shows not during times of wellbeing and prosperity, but rather during these times of struggle and crisis.
Our team of Joplin Attorneys, as well as the rest of our staff, thank you from the bottom of our hearts for any and all efforts you can make toward helping the people of Joplin recover from this disaster. Again, we are proud to be a part of this wonderful community, and honored to work beside you in this effort

Related Articles:
Flooding, Storm Debris, Increase Risk of Joplin Car Accidents after Deadly Tornado
Attorney meetings by appointment only
Posted By
Aaron Sachs & Associates, P. C.
Categories: