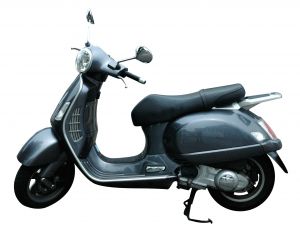 With this year's high gas prices and comfortable weather, scooters and mopeds are becoming an increasingly popular form of travel, both here and Joplin and nationwide. Our Missouri personal injury lawyers want to encourage the drivers of these vehicles to make sure they understand their roadway responsibilities when sharing Joplin streets with larger passenger vehicles. In this post, we discuss some common misconceptions about scooters and state laws, and we also provide some useful safety tips to help you avoid injury in a collision with another vehicle.
Scooters and Missouri law: Common violations committed by scooter drivers
According to the Springfield News-Leader, a scooter is defined as a motorized bicycle if it is equipped with two or three wheels, an automatic transmission, and a motor with a cylinder capacity that does not exceed 50 cubic centimeters. If your scooter has a maximum speed that exceeds 30 miles per hour on flat ground, it is technically considered a motorcycle, which means the vehicle must be registered as a motorcycle, it must display valid plates, and the operator must obtain a motorcycle endorsement on his or her driver's license. Here are a few basic reminders about Missouri laws that apply to scooter and moped operators:
• You must have a driver's license to operate a scooter or moped. A common misconception is that scooter drivers don't need a license, but you must be a licensed driver to operate a scooter.
• You must obey posted speed limits, just like other vehicles on the road. Some scooter drivers believe they aren't bound to the same rules as other motorists, but all drivers are required to follow the same traffic laws.
• You must use your turn signals and change lanes properly. Darting in and out of your lane without signaling is not only illegal: it also increases your chances of being involved in a serious accident.
• You should never operate a scooter or moped while under the influence. It's no secret that alcohol use has an extremely negative impact on driving skills, including reaction time and decision making. Since scooter occupants have virtually nothing to shield them from the force of impact, you need to be sober and focused to ride safely.
Avoiding a scooter crash: Useful safety tips
• Make it easy for other motorists to see you. Wear bright colors and reflectors, be aware of your lane position, and ensure that your headlights, brake lights and turn signals are operational.
• Know your skill level and avoid taking unnecessary risks. Riding a scooter safely requires skill and experience - be sure you are aware of your strengths and your limitations as a rider.
• Keep an eye on your speed. It's extremely easy to lose control of a scooter when you're traveling too fast for conditions.
• Use extra caution when passing through intersections, where many scooter/vehicle collisions occur.

To make sure you're equipped with the necessary skills to operate your scooter on public roadways, you may want to consider enrolling in a scooter safety class offered by the Motorcycle Safety Foundation. Click here for more information.
Aaron Sachs & Associates, P.C. is a personal injury law firm serving auto accident victims in Joplin, Missouri and the surrounding areas, including Carthage, Webb City, Sarcoxie, Noel, Anderson, Pineville, Goodman, Neosho and Diamond. If you've suffered injury in a crash caused by another driver's actions, it may be beneficial to seek legal advice from an experienced attorney. Our lawyers have a combined 50 years of experience serving accident victims statewide: please contact us today to find out if we can help you too. Call us toll-free at 1-888-777-AUTO, or submit our easy-to-use "Do I Have a Case?" form. For your convenience, we are available 24/7/365 to assist you.
Attorney meetings by appointment only