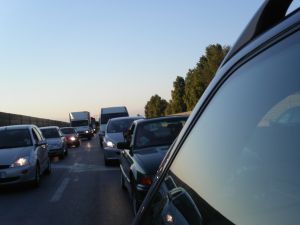 As Columbia car accident lawyers, we know that an increased number of Missouri crashes tend to occur over holiday weekends, largely due to contributing factors like heavy roadway traffic and alcohol use. Recently, the Missouri Highway Patrol released 2013's Labor Day crash statistics, which provide an overview of traffic and waterway incidents that happened during this year's holiday counting period, which began on Friday, August 30 at 6:00 p.m. and ended on Monday, September 2 at 11:59 p.m.
During that time period, Missouri law enforcement officials investigated 248 auto accidents statewide, compared to 201 crashes during the same time frame in 2012. Officers statewide also participated in Operation C.A.R.E. (Combined Accident Reduction Effort) over the weekend, meaning all available officers were on patrol, aiming to enforce state laws related to speed limits, seat belt usage, and driving under the influence, while also being on-hand to provide assistance to motorists in need. Additionally, officers took part in an initiative known as "The 20 Mile Trooper Project," meaning officers were positioned at 20 mile intervals on highways and roadways throughout the state. This year's patrol efforts were of particular importance: Missouri crashes, which had been steadily declining for the past six consecutive years, spiked during this time period in 2012.
Labor Day Weekend in Missouri: Data from the Missouri Highway Patrol
• During the 2013 Labor Day Holiday, seven people were killed and at least 112 more suffered injuries in Missouri accidents.
• Highway Patrol troopers arrested 119 motorists for driving while intoxicated. Comparatively, 147 people were arrested for drunk driving during the 2012 holiday weekend.
• No boating fatalities were reported by the Patrol this year, but troopers responded to nine boating accidents involving seven injured boaters. In addition, 14 people were arrested for boating while intoxicated.
• Here in Columbia, officers participated in sobriety checkpoints on both Friday and Saturday evening. Nearly 620 motorists were stopped at these checkpoints, according to the Columbia Missourian: ultimately, eight people were arrested for drunk driving and two others were charged with minor in possession of alcohol by consumption.
Facts about Labor Day Weekend Accidents from the National Safety Council (NSC):
• Nationwide, the NSC estimates that motor vehicle collisions caused about 400 fatal accidents and an additional 42,000 injuries requiring medical treatment over the Labor Day Holiday.
• Further, the Council reports that at least 143 lives were saved over the holiday because vehicle occupants opted to wear safety belts. An additional 99 more lives could have been spared if everyone on the road had chosen to buckle up.

Aaron Sachs & Associates, P.C. is a personal injury law firm serving car accident victims in Columbia, Missouri and the surrounding areas, including Jefferson City, Moberly, Linn, Versailles, Eldon, Hannibal, Boonville, Lake of the Ozarks, Osage Beach and Camdenton. Our firm works on a contingent-fee basis, and we offer a free initial consultation to discuss your case. To contact our office, please call us toll-free at 1-888-777-AUTO, or click here to submit our easy-to-use "Do I Have a Case?" form. For your convenience, we are available to assist you 24/7/365.
Attorney meetings by appointment only