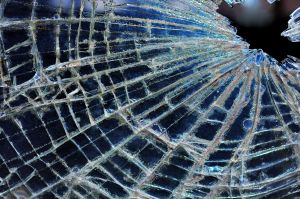 As Missouri personal injury lawyers, we know that accidents involving semi-trucks often cause catastrophic injuries to passenger vehicle occupants. According to the AAA Foundation for Traffic Safety, one especially dangerous kind of semi-truck accident involves vehicle related road debris (VRRD), which is "material - vehicle parts or cargo - that has been unintentionally discharged from a vehicle into the roadway." An AAA report found that VRRD causes an estimated 25,000 accidents in North America every year, which result in approximately 80-90 fatalities.
Recently, a Texas woman was killed and her one year-old child was injured when vehicle parts broke off an 18-wheeler and smashed through the windshield of her SUV. KDFW in Dallas reports that 33 year-old Zackquelyn Johnson died when a metal brake drum either fell or broke off of a semi on Interstate 20 and struck her Jeep Liberty. The impact from the debris caused Johnson to run off the road and collide with a road sign and a rest area park bench. The truck driver did not stop at the scene, and investigators say he is likely unaware of what happened. Johnson was taken from the scene by ambulance, but she died as a result of her injuries two days after the accident. Her child remains hospitalized.
Falling debris from large trucks can pose a large threat to other drivers on the road, especially since there's no way to predict when you will find such debris in your path. It can hit your vehicle, crash through your windshield, or require you to make a sudden, dangerous lane change to avoid the unexpected obstacle. Truck debris and unsecured cargo (including automotive parts, scrap metal, gravel, truck tire recaps, equipment and machinery) create especially frightening risks to motorists who simply happen to be in the wrong place at the wrong time. Accidents like these are all the more tragic because they're totally preventable, with proper maintenance and care.
Last December, a Lake St. Louis man was killed by logging equipment that fell from a truck on Champ Clark Bridge. 40 year-old Kyle David Brown died after a logging truck struck a guardrail on the bridge, causing log dragger equipment to break loose and fall in front of Brown's SUV. Brown's widow and his two minor sons have since filed a wrongful death lawsuit against the truck driver involved. And in October, a jury awarded $3.2 million to a Pennsylvania woman whose husband died when his vehicle was struck by a piece of mining equipment that was not properly secured to a semi-truck.

At Aaron Sachs & Associates, P.C., our truck accident lawyers represent injury victims throughout the state of Missouri. We maintain offices in Springfield, Joplin, Columbia, Cape Girardeau and Kansas City, and we offer a free initial consultation to discuss your case and answer your questions. If you or a loved one has been injured in a Missouri truck accident, please call us toll-free at 1-888-777-AUTO, or click here to submit our convenient "Do I Have a Case?" form. You can also visit our website to meet our team and learn more about our firm.
Attorney meetings by appointment only