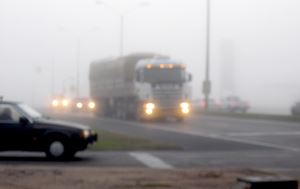 As Missouri truck accident lawyers, we know that auto accidents often happen because of driver-related factors, such as speeding, fatigue, distractedness, and drug or alcohol impairment, just to name a few. These accidents can have serious, life-altering consequences for innocent victims - especially when the unsafe driver is behind the wheel of a semi-truck.
Unsafe truckers can pose a serious threat to the innocent motorists traveling near them - and what's more, many of these unsafe drivers have previous safety violations or have had their commercial driver's licenses (CDL) revoked or suspended. And yet they are still obtaining employment as drivers in the trucking industry. In this post, we discuss how this happens and what measures are in place to try and eliminate the problem.
CDL fraud...
CDL fraud is one of the reasons truck drivers without a valid CDL or without safe driving skills can still get a job driving a commercial vehicle. In 2002, the U.S. Department of Transportation's Office of the Inspector General released the results of an investigation into CDL fraud. The investigation discovered criminal activity in at least 16 jurisdictions, and large-scale fraud in Florida, Georgia, Illinois, and North Carolina. At that point, thousands of CDL holders were retested nationwide.
Part of the problem was that drivers with inadequate skills were allowed to pass the test anyway. The responsibility of testing lies with the state. In 1986, the Commercial Motor Vehicle Safety Act was passed, which requires each individual state to comply with federal commercial driver standards. Here in Missouri, the Missouri Department of Transportation administers CDL written tests and skill evaluations. In some states, a third party, or private company, administers the tests.
After the investigation...
Following the investigation, many truck driving schools and owners were convicted of fraud. One such company owner was convicted of falsifying the skills tests of 623 students, meaning that these truck drivers and many more like them were given a CDL when they did not qualify for one. Other cases involved bribing state testing officials. These practices put thousands of unsafe truck drivers on the road.
Since then, the Federal Motor Carrier Safety Administration (FMCSA) has implemented numerous measures to prevent this fraud. These measures included creating a safe driver data base, implementing a CDL third party testing anti-fraud system, and changing rules regarding the updating and sharing of driver's license records.Today, FMCSA officials are still working hard to reduce the number of fraudulent CDLs issued.
CDL fraud still happens...
One popular method of CDL fraud is to obtain a new CDL in a different state. The law only permits a driver to possess one driver's license, and it must be issued in your state of residence. Some drivers have their licenses revoked or suspended in one state, so they simply go to another to get a new license. Until recently, outdated software and lags in updating databases prevented proper records checks. Couple this with trucking companies who do not conduct background checks or check with FMCSA's safety data base, and the problem of unqualified truck drivers transporting cargo on our roads becomes disastrous.
Another requirement for obtaining a CDL involves being physically capable. A doctor's exam is required to ensure that a driver does not have a medical condition that will cause, contribute to, or increase the chances of a truck accident. These medical exams are not always thorough enough: the paperwork can be forged, clinics may accept bribes, and some drivers lie to obtain medical clearance. In fact, in September of this year, a former chiropractor in Albuquerque was arrested for selling fraudulent medical cards to unqualified truck drivers in New Mexico who were attempting to obtain CDLs. The chiropractor, 74 year-old Paul Bateman, has been charged with three counts of fraud and 609 counts of forgery: investigators say he sold cards to at least that many drivers.
The good news about semi-truck accidents in Missouri...
Over the past decade, efforts to reduce CDL fraud and other safety changes have helped reduce the number of commercial truck accidents. In Missouri, in 2005, there were 180 fatal truck accidents and 3,608 truck accidents that resulted in injuries. In 2012, there were 104 fatal truck accidents and 2,129 crashes that resulted in injuries.
There is more work to be done. As long as there are companies that fail to check safety history or conduct background checks, unsafe drivers will continue to be on the road and continue to cause truck accidents. If you or a loved one has been injured in an accident involving a semi-truck or other large commercial vehicle, please contact our office to find out if we can help. Call us at (888) 287-1046. Attorney meetings by appointment only.