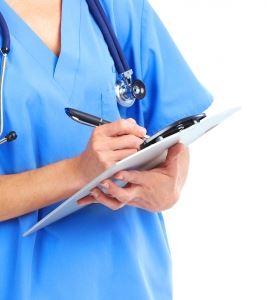 As Missouri truck accident lawyers, we know that collisions involving semis and average-sized passenger vehicles can have catastrophic consequences, often for the occupants of those smaller vehicles. To operate a semi-truck safely, drivers must be skilled, proactive and alert to the actions of other vehicles traveling near them. When truckers suffer from certain medical conditions, they increase accident risks for everyone on the road.
This week, a semi-truck driver plowed through a Colorado intersection, causing a wreck involving 13 vehicles and leading authorities to believe that he experienced a medical emergency while behind the wheel. According to 7NEWS in Denver, the semi-truck was westbound on a roadway in Cherry Hills Village when it failed to stop at the intersection and rear-ended several vehicles stopped there. Witnesses say the semi then continued on, knocking down a power pole and ultimately coming to a stop in a grassy area in an apartment complex.
"When my car got jostled, I was almost like - it was a joke - like, 'Who's pushing me,' but then I looked over and there's a big, giant truck cab rolling, just barreling through the intersection, and I was like, 'Oh, this is really happening,'" said Thomas Ogans, one victim of the crash. "And then as that happens, a bunch of glass hits me in the face. Glass everywhere, sparks was flying, it was just like out of a movie. I was scared out of my mind." Amazingly, no one was killed or seriously injured: four people - including the truck driver - were injured in the accident and taken to a nearby hospital for treatment.
In 2011, the Federal Motor Carrier Safety Administration (FMCSA) implemented a new rule that requires truck drivers to undergo official medical examinations performed by health providers who are specifically trained and certified. FMCSA's Office of Medical Programs works to keep truckers off the road if they have a medical condition that could threaten the safety of motorists traveling near them. Its mission "is to promote the safety of America's roadways through the promulgation and implementation of medical regulations, guidelines and policies that ensure commercial motor vehicle drivers engaged in interstate commerce are physically qualified to do so."
According to the Mayo Clinic News, the federal rule also works to make drivers, trucking companies and examiners accountable for their actions. "If something bad happens, if an accident occurs and property or individuals are somehow affected, the examiner may get added scrutiny if they haven't done a comprehensive medical evaluation or a glaring medical condition was not addressed," said Dr. Clayton Cowd, M.D.

Aaron Sachs & Associates, P.C. is a personal injury law firm that represents Missouri truck accident victims and their loved ones. If you've been injured in a semi-truck accident and you were not at fault, you may be entitled to compensation for your losses and damages. For more information about filing a personal injury claim, please contact our office at 1-888-777-AUTO, or click here to submit our convenient "Do I Have a Case?" form. We offer a free initial consultation and we work on a contingent-fee basis: it won't cost you anything to find out if we can help. Offices in Springfield, Joplin, Columbia, Cape Girardeau and Kansas City.
Attorney meetings by appointment only