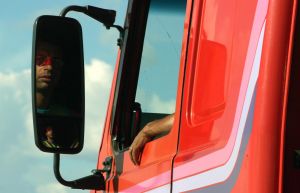 Crashes involving semi-trucks and smaller passenger vehicles are all-too-often deadly. As Missouri truck accident lawyers, we know that these collisions are often linked to certain common contributing factors. One particularly common factor is truck driver fatigue: truckers often work long hours without adequate rest, and research has proven that fatigue has an extremely detrimental effect on driving performance. Fatigued truck drivers can pose a serious threat to roadway safety, especially for the passenger vehicle occupants who happen to be traveling near them.
Recently, a three-judge panel of the Court of Appeals in Washington upheld U.S. Transportation Department regulations that work to reduce auto accidents caused by fatigued truckers. According to the Insurance Journal, the ruling "maintained an 11-hour limit on truckers' driving day and a 34-hour rest period each week that would require drivers to be off two consecutive nights." These regulations may reduce productivity in the trucking industry by as much as three percent, but officials say "they weighed industry costs against billions of dollars in health-care savings and reduced accidents in a profession that has more on-the-job deaths than any other in the U.S.," reports Bloomberg.
Missouri truckers and fatigued driving: Facts and statistics
• In 2011, 3,373 people were killed in U.S. accidents involving large trucks. Of those fatalities, 66% were passenger vehicle occupants, 16% were large truck occupants, and 16% were pedestrians, bicyclists or motorcyclists.
• Compared to 2010, fatal accidents involving large commercial trucks increased by two percent in 2011, and injuries increased by 10%, NHTSA reports.
• Truck drivers who have been on the road for more than an eight-hour stretch are twice as likely to be involved in an accident. In fact, being awake for an eighteen-hour time period is like having a blood-alcohol concentration of 0.08%, the legal limit for drivers.
• The Large Truck Crash Causation Study, conducted by the Federal Motor Carrier Safety Administration (FMCSA), found that about 13% of commercial motor vehicle drivers reported being fatigued at the time of their accidents.
• Sleep deprivation increases a driver's risk of having a fatigue-related accident: the less sleep you get on a nightly basis, the greater your risk of causing a crash. Drivers who only sleep six to seven hours per night are two times more likely to crash, compared to drivers who sleep a full eight hours per night. Drivers who sleep less than five hours a night are four or five times more likely to be involved in an accident.
Aaron Sachs & Associates, P.C. is a Missouri personal injury law firm serving truck accident victims and their loved ones. If you've been injured in an accident caused by a careless or fatigued truck driver, it may be beneficial to seek legal advice from a knowledgeable attorney. Our lawyers work on a contingent-fee basis, and we offer a free initial consultation to discuss your case. To contact our office, call us toll-free at 1-888-777-AUTO, or visit our website to submit our easy-to-use "Do I Have a Case?" form. Offices in Springfield, Joplin, Columbia, Cape Girardeau and Kansas City.
Attorney meetings by appointment only