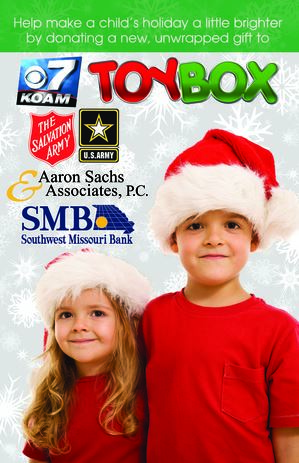 It's December, which means Christmas is right around the corner! Most of us are eagerly anticipating celebrations with friends and family, but for others, the holidays may not look so bright. Here at Aaron Sachs & Associates, P.C., we're proud to partner with KOAM-TV in Joplin, the U.S. Army, and the Salvation Army as a sponsor of their Annual Toybox Campaign. This toy drive, which has been providing gifts to children in our community for over 25 years, makes a significant difference for local families during the holidays - but of course, we need your help.
The holiday season is an especially difficult time for low-income families and families that live in poverty. According to the National Center for Children in Poverty, there are over 29 million needy children throughout the U.S. who live in low-income families. That means about 1 in 5 children live below the poverty line, and research shows that living in poverty is the single greatest threat to a child's well-being. In 2014, charitable organizations nationwide have reported an increase in the number of families seeking assistance - and even more families are in need of help at this time of year.
By donating a toy, you can help a less-fortunate child in our community experience the joy and giving spirit of the Christmas season - and you're making an investment in one of our country's most valuable resources: our children. We hope you'll join us in supporting the Toybox Campaign by dropping off a new, unwrapped toy at our Joplin office or at one of the other drop off locations in our area. Click here to learn more about those locations, the Toybox Campaign, and how you can get involved.
From our family to yours, we wish you the happiest of holidays!