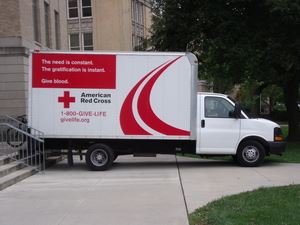 Here at Aaron Sachs & Associates, P.C., we're proud to be a sponsor of the KFVS12 Heartland Blood Drive, to be held Friday, August 16 and Saturday, August 17 in various locations throughout southeast Missouri. "Each summer the Red Cross typically sees a drop in blood donations, and each summer KFVS12 is there to help keep our supplies stable," said Scott Caswell, CEO of the American Red Cross Missouri-Illinois Blood Services Region, in a Red Cross news release. "The Red Cross thanks KFVS and their devoted viewers for all their efforts to help save lives."
Donors will receive a Red Cross t-shirt and a $4.00 Subway gift card (while supplies last). You can schedule an appointment to make a donation on August 16 between 1:30 and 6:30 p.m. or on August 17 between 10:30 a.m. and 3:30 p.m. Donations will be accepted at any of the following locations:
• Cape Girardeau: West Park Mall (3049 William Street)
• Charleston: First Baptist Church (301 South Main Street; August 16 only)
• Dexter: Fraternal Order of Eagles (13583 Old Highway 25)
• New Madrid: First United Methodist Church (627 Mill Street; August 16 only)
• Perryville: Elks Lodge (921 North Perryville Boulevard)
• Poplar Bluff: First United Methodist Church (Fifth Street and North Main)
• Sikeston: Sikeston Factory Outlet Mall (100 Outlet Drive)
• Carbondale, IL: University Mall (1237 East Main Street)
• Marion, IL: Illinois Star Centre Mall (3000 West DeYoung Street)
• Paducah, KY: Broadway Church of Christ (2855 Broadway Street; August 16 only)
Schedule your donation appointment today
If you'd like to make an appointment to donate blood at any of the above locations - or if you simply want more information about the event - call 1-800-REDCROSS, or click here to visit the Red Cross's website (enter sponsor code KFVS). All blood types are needed. Donors will be required to provide a donor card, driver's license or two other forms of identification. If you're 18 or younger, you will also have to meet height and weight requirements.
Giving the gift of life: Facts about blood donation from the Red Cross
• Someone in the U.S. needs blood every two seconds, including car accident victims, cancer patients, people with blood disorders, and victims of natural disasters.
• Every year, an estimated five million Americans receive blood. On average, 44,000 blood donations are needed each day to meet this demand.
• One car accident victim may need as many as 100 pints of blood.
• By donating blood just one time, you can save more than one life.

At Aaron Sachs & Associates, P.C., our personal injury lawyers represent car accident victims in southeastern Missouri. Our firm serves clients in Cape Girardeau, Sikeston, Poplar Bluff, Perryville, Dexter, Potosi and Ste. Genevieve, as well as the surrounding areas. If you or a loved one has been injured in a crash caused by a careless or negligent driver, please contact our office to find out if we can assist you. Our attorneys work on a contingent-fee basis, and we offer a free initial consultation to discuss your case. Call us toll-free at 1-888-777-AUTO, or click here to submit our easy-to-use online form. For your convenience, we are available 24/7/365.
Attorney meetings by appointment only