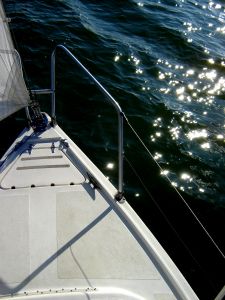 Our Columbia personal injury lawyers know that Missouri's waterways experience more traffic during the warm summer months. Many people take advantage of the beautiful weather by hitting Missouri's bodies of water for various forms of recreation, like boating, fishing and swimming. Unfortunately, increased activity on waterways during the summertime tends to increase the number of accidents that take place. To raise and promote water safety awareness, the state of Missouri has implemented an annual initiative called "Operation Dry Water," which is a national campaign that raises awareness of the dangers accompanied with boating under the influence (BUI) by highlighting enforcement efforts.
This year Operation Dry Water held their fifth national campaign during the weekend of June 28-30. In Missouri, troopers inspected 747 vessels and 1,405 boaters in total. The boat inspections led to 14 arrests for boating while intoxicated. Along with BUI arrests, the Missouri Water Patrol had 114 boating violations, 482 warnings, and 82 non-boating violations. The special sobriety checkpoints, saturations, and heightened awareness during normal patrols helped detect and remove hazards from state waterways.
As is customary in Missouri, many people were out enjoying the water over the Fourth of July holiday. During the holiday counting period (July 3rd through July 8th), troopers investigated 17 boating crashes and 11 injuries. In addition, 17 people were arrested for boating while intoxicated and 3 people drowned. Comparatively, during the 2012 Fourth of July holiday, there were six crashes with two injuries; seven arrests for boating while intoxicated; one drowning; and two electrocutions. Authorities say the increase in water fatalities can be partly attributed to a longer holiday counting period this year.
Alarmingly, our state has experienced a large increase in the number of water fatalities this year. The number of drownings has tripled in Missouri, compared to 2012. Thus far, 24 people have drowned in Missouri - last year, at the same time, eight people had drowned, reports the Kansas City Star. The Army Corps of Engineers connects the increase in drownings to busier public beaches and unnoticed slips under water. The Corps highly recommends that people use life jackets and/or other floating devices to help reduce water safety risks.

Our attorneys want to encourage everyone on the water to make safety their top priority. No matter how much experience you have, brushing up on boating safety rules is always wise. When operating water vessels or engaging in activities in or around the water, familiarize yourself with basic water safety precautions. To protect yourself - and your loved ones - from accidents on the water, remember the following tips:
• Check the weather prior to hitting the water.
• Create - and follow - a pre-departure checklist.
• Designate an assistant driver.
• Have a float plan when on the river.
• Make proper use of life jacket.
• Avoid alcohol use.
• Take a boating course prior to hitting the water.
Although Missouri has experienced an increase in water accidents this year, many of these accidents can easily be prevented with extra safety awareness and caution while on the water. Help ensure a fun and safe experience on the water by planning ahead and boating responsibly.
At Aaron Sachs & Associates, P.C., our personal injury lawyers represent the victims of Missouri boating accidents. We serve clients in Columbia and the surrounding areas, including Centralia, Ashland, Jefferson City, Kirksville, Lake of the Ozarks, Osage Beach, and Camdenton. Our attorneys work on a contingent-fee basis, and we offer a free initial consultation to discuss your case. To contact our office, call us toll-free at 1-888-777-AUTO, or visit our website.
Attorney meetings by appointment only