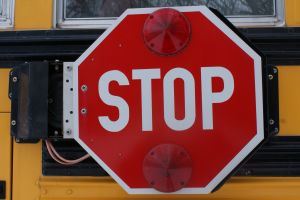 Our Cape Girardeau car accident lawyers are troubled by a recent report of a Missouri school bus accident that sent 11 students to the hospital. It happened on March 13 in Belgrade, MO: the bus was carrying 35 students on Highway C, a narrow, 2-lane road. As the road curved to the left, the bus's rear wheels slid off the road and into a ditch. In response, the driver overcorrected, which caused the bus to overturn onto its passenger side.
3 students suffered serious injuries and were taken to St. Louis Children's Hospital by helicopter. 7 others suffered moderate injuries, and were taken by ambulance to hospitals in Farmington and Potosi. Several suffered from scrapes, bruises, fractures and broken bones.
According to the Missouri Highway Patrol, the accident happened when the bus driver (72 year-old Elwood Reed) became distracted. Reed, a substitute driver, had his attention diverted when a student dropped something behind the driver's seat, Sergeant Al Nothum reported.
This accident came right on the heels of another serious school bus crash: on March 12 in Indianapolis, a 5 year-old girl and a 60 year-old bus driver were killed when the driver slammed into a concrete pillar of an old railroad bridge. About 50 students were on board: 2 others were critically injured, and 10 suffered non-life threatening injuries. The cause of the accident is unknown, and the investigation continues.
In light of these very serious accidents, our lawyers thought it might be a good time to discuss all aspects of school bus safety. According to the School Bus Information Clearinghouse, 5 students were killed in school bus accidents last year. However, while bus accident fatalities are relatively rare, students waiting for the bus or walking to and from the bus stop are much more vulnerable. Between 2001 and 2011, an average of 29 children died in school bus-related pedestrian accidents.

While parents can't control or predict a bus driver's behavior, there are other precautions you can take to protect your children as pedestrians. We would like to remind young bus riders to be extra cautious, and we urge parents to help their kids understand what it takes to be safe while traveling to and from school.
School Bus Safety: Best Practices
• Always arrive at the bus stop at least five minutes before the bus arrives.
• Children should avoid horseplay while waiting for the bus.
• Once on the bus, remain seated, face forward keep the aisles clear.
• Keep head and arms inside the bus at all times.
• Remove loose drawstrings or ties on your child's jacket and sweatshirt because they can snag on bus handrails.
• Always walk in a single file line and use the handrail to avoid falls when getting on or off the bus.
• Look before stepping into the street to make sure there are no cars passing the bus.
• Children should cross the street at least 10 feet, or 5 giant steps, in front of the bus.
• Wait until the bus comes to a complete stop before exiting.
• Never walk near the back of the bus.
Susan Laurence, Cincinnati Children's Hospital Medical Center's injury prevention coordinator, says that injuries are commonly caused when students are boarding or exiting the bus. "A blind spot extends about ten feet in front of the bus, obstructing the driver's view," Laurence said. "Often times, children are not aware of this blind spot and might mistakenly believe that if they can see the bus, the bus driver can see them."
According to the American Academy of Pediatrics, each year, more than 20,000 children receive medical treatment for injuries associated with school bus accidents. By taking some of the above steps, we can bring that number down, and help keep our own children safe as possible.
Attorney meetings by appointment only