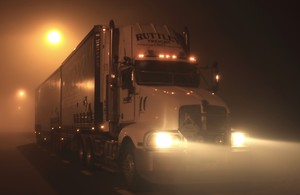 On Tuesday, one person was killed in a fiery truck accident on Interstate 44 in northern Springfield. The crash happened when a flatbed truck slammed into a semi-truck that was parked on the shoulder of the highway. The flatbed then flipped over the bridge railing, caught fire, and rolled down an embankment into a ditch near National Avenue, where it landed upside down. The driver, 54 year-old Gerald Rivard Jr., was pronounced dead at the scene, according to the Springfield Police Department.
Unfortunately, this accident is just one of many fatal trucking crashes that take place each year. In fact, the number of deaths from semi-truck related accidents is on the rise in Missouri: according to Captain Tim Hull of the Missouri Highway Patrol, the number of fatalities in tractor trailer wrecks increased from 105 in 2010 to 120 in 2011. In addition, the Patrol also reports that Missouri crash fatalities in general are up 22% in 2012, and about two-thirds of motorists killed this year were not wearing seat belts. Given these facts, it's essential to remember basic road safety, and to use special caution when driving around large trucks.
New patrol statistics reveal that the majority of collisions involving commercial trucks aren't caused by truck drivers: more often, drivers of passenger cars and trucks are at fault. According to a report from KFVS 12, truck drivers are noticing an unusual amount of inattentive drivers on the road. Issues such as speeding, tailgating, failing to use turn signals, and failing to yield on merging highway ramps are all becoming significant problems on roadways throughout the state.
In addition, many drivers don't recognize the difficulty of maneuvering large vehicles, which require more time and space to speed up, slow down and make turns. In KFVS's report, truck driver Roger Bennett discussed the risks associated with abruptly cutting off a semi: while semis have eighteen breaks, it still takes approximately three football fields for a tractor trailer to come to a complete stop when it's traveling 65 miles per hour. Even slowing down takes considerably longer compared to passenger automobiles. Bennett reminds drivers that hovering in truckers' blind spots and abruptly cutting off large trucks can be incredibly dangerous: often, these large vehicles are simply unable to react in time.

Many truck accidents can be prevented, provided drivers remember basic skills and safety practices: using turn signals, driving the speed limit, giving other drivers plenty of space, and making proper lane changes. It is especially important for drivers to avoid pulling out in front of trucks, because they may not be able to stop in time to avoid a crash. Be patient and share the road: allow extra space for tractor trailers when they make turns, and do not attempt to pass a truck on the right side. These simple steps can help prevent many serious trucking accidents, and thereby save many Missouri lives.
At Aaron Sachs & Associates, P.C., our truck accident attorneys represent injury victims throughout Missouri. We have offices in Springfield, Joplin, Columbia, Cape Girardeau and Kansas City, and we offer a free initial consultation. To schedule an appointment, call us toll-free at 1-888-777-AUTO, or visit our website.
Attorney meetings by appointment only