A California man has been charged with second degree murder in connection with a "car surfing" incident that left one woman dead and another woman seriously injured. According to prosecutors, 28 year-old Lanie Tyrone Richardson is also facing charges of gross vehicular manslaughter while intoxicated, driving under the influence of alcohol causing injury, and driving with a suspended license. He reportedly has at least three prior DUI convictions.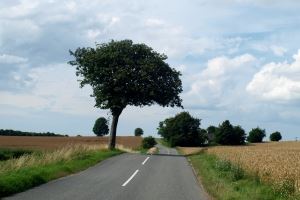 Richardson is accused of being directly involved in the death of 26 year-old Alison Meadows and the injury of 25 year-old Lindsay Keebler. Both women were found along a Santa Barbara County road in the early morning hours of June 6: it was originally believed that they had been struck by a hit and run driver, and that Richardson was a good Samaritan who simply brought the women to a nearby hospital. However, law enforcement authorities now believe that Richardson was driving while the two women "car surfed" in an area called "The Bump," near Montecito.
KEY News reports that Richardson's Toyota 4Runner was taken to a detail shop on the morning after the accident. Upon discovering blood in the back seat, the shop's owner contacted Cottage Hospital to ask about recent injuries, and he was put in touch with officers from the California Highway Patrol. Troopers immediately inspected the vehicle and discovered a cracked windshield and a dent in the hood, "as if someone had been standing on it." Richardson's bail has been set at $500,000 and he is scheduled to be arraigned on June 20.
Car surfing, also known as urban surfing, is a thrill-seeking activity in which passengers perform stunts on the exterior of moving vehicles, including riding on the hood, truck, or roof. MSNBC reports that car surfing "has been around for decades, but as videos proliferate online, experts worry that the stunt is becoming increasingly popular among teens and 20-somethings."

Several young people have been injured this year, including teens in Florida and Georgia. Recently, the Today Show featured the story of Hannah Huntoon, a Florida teen who suffered a catastrophic brain injury two months ago while car surfing on a friend's vehicle. She has had to learn to walk and talk all over again. "My life before the accident was fun," Hannah said in the interview. "I would be out all the time, always exercising and dancing. Now I can't really do a lot of that. Everything's more difficult. It hurts to be alive."
There are no official agencies tracking injuries and fatalities connected to car surfing, so there are no firm statistics related to the activity. However, a study from the Centers for Disease Control (CDC) discovered 58 deaths and 41 serious injuries connected to car surfing between 1990 and 2008. These numbers only reflect the incidents addressed in newspaper accounts. The CDC also found that car surfing is most prominent in the Midwest and the South, and the majority of victims are males between ages 15 and 19.
Arlene Greenspan, associate director for science at the National Center for Injury Prevention and Control and a co-author of the CDC study, urges parents to talk with students about the extreme risks associated with car surfing. "Teens are risk takers," Greenspan told USA Today. "It's well documented (that) they look at the fun side of things and don't think about the risk."
The personal injury lawyers at Aaron Sachs & Associates, P.C. represent clients in Kansas City and throughout the surrounding areas, including Lee's Summit, Independence, Liberty, Blue Springs and Greenwood. To schedule an appointment for a free initial consultation, please call 1-888-777-AUTO, or visit our website.
Attorney meetings by appointment only