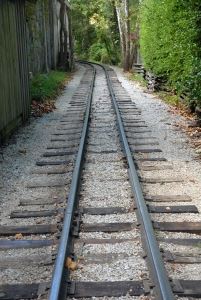 This year, Missouri has experienced an unusually high number of pedestrian accidents on train tracks. Since May, there have been four train-related fatalities caused by people walking on and around Missouri railroad tracks, including two teenagers killed in the St. Louis area within a month's time. While train track safety might not seem like a pressing issue, pedestrians should be especially mindful of the dangers associated with heavy, fast-moving trains.
This morning, a man was struck and killed by a train near Merriam, Kansas. Police reports indicate that he was laying on the railroad tracks prior to being hit. According to KCTV 5, the engineer tried to slow the train when he saw the man on the tracks, but he was unable to stop in time. The man was pronounced dead at the scene: he has not yet been identified, and police continue to investigate the circumstances surrounding the accident.
Because of their size and weight - and because they often travel at extremely high speeds - trains require more time to slow down than smaller vehicles, like passenger cars and trucks. Sudden stops are simply not feasible: in general, it takes a train several hundred feet to come to a complete stop. An average freight needs even more time - approximately a mile and a half.
In addition, it's extremely easy for a person to misjudge a train's speed, as trains often appear to be moving much slower than they actually are. Freight trains travel at a maximum speed of 60 mph, while passenger trains can travel as fast as 80 mph. A train moving at a high speed can create a massive force upon impact, especially since many trains carry cargo weighing several tons.
Slower moving trains can also be deadly. On average, a single locomotive weighs about 432,000 pounds. This means that a train traveling at a reduced speed of around 35 miles per hour would have the force of 885,000 tons. Consider the implications of that kind of impact: to achieve the same crash force, the average passenger vehicle would need to travel about 4,200 miles per hour. Of course, a train's weight and force varies, depending on factors like speed and cargo weight, but the potential force of any train is extremely dangerous.

Train tracks tend to wind and twist, so engineers rarely have a clear view of what's waiting for them a mile and a half ahead. Therefore, it's best to steer clear. Never walk on or around train tracks - in fact, they're considered private property, so walking on them is actually against the law. If you absolutely must cross railroad tracks on foot, do so at a designated crossing, and use extreme caution. Most people think they would easily hear an approaching train, but modern trains can be extremely quiet. Always look twice before you cross.
Operation Lifesaver is a non-profit organization that promotes awareness and education about rail safety. For more information - including safety tips and resources - visit their website.
At Aaron Sachs & Associates, P.C., our personal injury attorneys represent auto accident victims in Kansas City, Lee's Summit, Independence, and throughout the Jackson County area. To schedule an appointment for a free initial consultation, contact our office at 1-888-777-AUTO, or contact us online.
Attorney meetings by appointment only