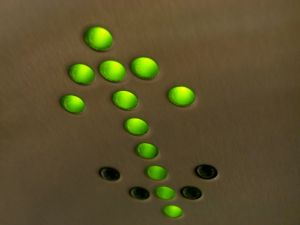 Last week, two garage attendants were injured on the job when a 4,500-pound Lexus SUV fell approximately 40 feet down an elevator shaft in Manhattan. According to the Wall Street Journal, a trained parking attendant drove the SUV into a vehicle elevator on the 5th floor, but the elevator car was not there: it was down on the building's first floor. After entering the lift, the vehicle plunged down the shaft, flipping upside down and landing on top of the elevator car.
Firefighters on the scene were forced to use Jaws of Life to take the door off the vehicle and extricate Stephen Morales, the parking attendant who was driving the vehicle. He was taken by ambulance along with a second attendant, Angel Rosa, who was in the elevator car at the time of the incident. "It felt like it was a bomb," Rosa told the New York Times. Remarkably, Morales and Rosa escaped serious injury: both men are listed in stable condition at New York Presbyterian-Cornell University Medical Center.
Emergency responders from the New York Fire Department closed the garage and the surrounding block while they attached cables to the totaled SUV, which was wedged in the elevator shaft at a steep angle. It took about two hours for firefighters to drag the vehicle out of the shaft and onto the street.
Two days after the incident, the New York Police Department announced that Morales had been charged with driving without a license and aggravated unlicensed operation of a vehicle: apparently, he was driving with a suspended license when the incident occurred. However, prosecutors have since announced that they do not plan to pursue a case against him, and the charges were subsequently dropped.