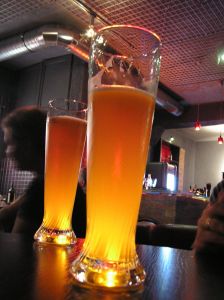 Over the holiday season, our Camdenton, Missouri car accident attorneys sponsored an initiative called Project Roadblock, which aimed to raise awareness about drunk driving dangers. The campaign's slogan was "buzzed driving is drunk driving," which we found especially apt. It's not uncommon to think, "I'm perfectly fine to drive - I just had a couple of drinks with dinner." But making a distinction between "buzzed" and "drunk" is dangerous and irresponsible for many reasons: namely, because consuming any amount of alcohol can impair a driver's focus, decision making, and reaction time.

According to a research study reported by ABC News and published in Addiction Treatment Magazine, drinking a few sips of wine or half a beer can create a buzz that significantly increases the likelihood of accident, causing injuries or even fatalities. Sociologists David Phillips and Kimberly M. Brewer studied fatal car accidents between 1994 and 2008, using federal statistics. Their findings: "Accident severity increases significantly even when the driver is merely 'buzzed.'"
Citing their research, Phillips and Brewer hold that the legal blood alcohol limit should be lowered. Sounds extreme? Perhaps not, as their study demonstrates that a blood alcohol level as low as .01% raises the chance of a fatal injury accident. When compared to other countries, ABC reports that the U.S. standard of .08% is generally seen as "permissive." In some places (Brazil and Russia, for example), it's illegal to drive if you've consumed any alcohol, even just a few sips. Sweden, China and Puerto Rico also have extremely low legal limits at .02%, while Japan's limit is 0.3%. Worldwide, the average is around .05%.
While most drivers understand that drunk driving is dangerous, many have shockingly cavalier attitudes about driving while "buzzed." Remember that a "buzz" leads to a "devil may care" attitude: risk taking, a feeling of invincibility, and slower reaction times. It also invites distractions, such as the playing of loud music, talking to friends, eating, and texting. Drivers with as little as .01% alcohol in their blood stream are more likely to break traffic laws by speeding, failing to wear a seat belt, and crashing into other cars.


Where to find information about buzzed driving:
*Check out the National Highway Traffic Safety Administration's (NHTSA) "Buzzed Driving" website.
*Learn about the Ad Council's prevention initiatives.You can also follow @buzzeddriving on Twitter.
*Participate in NHTSA's movement to Stop Impaired Driving, and help make Missouri roadways safer for all of us.
Where to get help if a loved one has been injured by a drunk driver:

The Camdenton, Missouri car accident attorneys understand the intricacies of the medical, legal, and insurance systems. We will navigate your case through these systems and make sure your needs and interests are represented. We'll handle all of the paperwork, legal filings, interviews, research, and expert witnesses so that you can focus on your family and healing. Call our office for a free, no obligation consultation. You can reach us toll free at (888) 287-1046: we are available 24/7/365 for your convenience.
Attorney meetings by appointment only