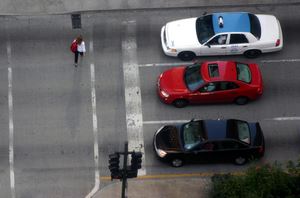 One of the first lessons a new driver learns is to watch out for pedestrians. However, our Joplin, Missouri car accident attorneys want to remind you that pedestrians aren't always children playing or people walking their dogs in residential neighborhoods. Sometimes, pedestrians turn up in unexpected places--like busy highways.
On February 10, a 27 year-old man was killed in Joplin after he exited his vehicle following a single-car accident. Seneca Mathews, of Miami, OK, exited westbound I-44 onto Highway 43 (Exit 4), and failed to negotiate the curve on the ramp. His car spun out, left the roadway, and came to rest in the grass median. Mathews was uninjured, so he left his vehicle and walked to the top of the ramp: Joplin police believe that he meant to walk to the nearby Petro Truck Stop and ask for help. But then, as he attempted to cross the road, he was struck by a pickup truck.
Mathews was pronounced dead at the scene. The driver of the pickup, 22 year-old Alan Pink of Joplin, was arrested for suspicion of driving while intoxicated. The Joplin Police Department is continuing to investigate the accident, according to Sergeant Rusty Rives: "At this point, what we'll do is try to gather up all our information," Rives said. "We'll try to locate witnesses, there's supposedly another person in the car. I believe we just found them. So we'll go back and interview all the witnesses and all the people involved and we'll try to recover data from the vehicles to trace their steps back throughout the night."
To read the Joplin Police Department's press release regarding this accident, click here.
Last November, the Missouri Department of Transportation (MoDOT) launched the "Be Safe, Be Seen" campaign in response to the rising number of pedestrian fatalities statewide. For obvious reasons, car/pedestrian collisions almost always cause injuries and/or fatalities. According to the Missouri Highway Patrol, 25.4% of Missouri traffic accidents caused injury or death in 2010, while 91% of car/pedestrian collisions resulted in serious injury or death. Nationwide, about 16% of pedestrian fatalities occur on or near freeways.
In this particular accident, police clearly suspect that alcohol was a mitigating factor, affecting Pink's ability to see and react to a pedestrian in the roadway. But Leanna Depue, MoDOT's safety director, says drivers simply don't look out for certain kinds of pedestrians. "If I say 'pedestrian,' you tend to think of someone out for exercise or kids walking to school," Depue says. "But a pedestrian is any person near or on a roadway who is not in a vehicle or on a motorcycle. For example, someone changing a tire on the side of the road is a pedestrian." The same principle applies to motorists who have exited their vehicles following an accident: often, drivers aren't prepared to encounter a pedestrian under those circumstances.
Here are some safety tips from the Missouri Coalition for Roadway Safety: keep these practices in mind if your vehicle becomes disabled due to an accident or a breakdown (particularly when you're near a highway or fast-moving traffic):
• Move your vehicle as from the road as possible.
• Be sure your lights are turned on--both headlights and emergency flashers.
• Call for assistance as soon as possible. In Missouri, you can dial *55 from a mobile phone, but this number should only be used to report breakdowns, accidents, hazardous material spills, or other highway hazards, as well as impaired or aggressive drivers and other criminal behavior. Of course, you should call 911 if anyone is injured.
• If possible, stay in your vehicle. Only leave the vehicle if it can't be moved out of the direct path of traffic, or if there is evidence of a possible fire or other emergency.
• If you have to leave your vehicle, exit on the side furthest from traffic. Do not stand right next to the road while you wait for assistance.
Finally, as Missouri drivers, we must use extra caution when we see an accident or a disabled vehicle on the highway: slowing down and keeping our eyes open just might save someone's life.
Attorney meetings by appointment only