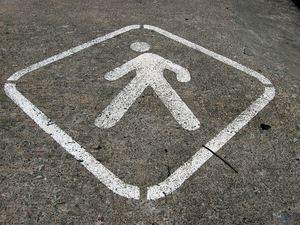 Lately, our Kansas City car accident attorneys have read about several fatal Missouri collisions that have one thing in common: pedestrians killed by highway traffic. These accidents are usually caused when motorists and passengers exit their vehicles near a busy roadway (normally, because they've been involved in collisions, or because their vehicles are disabled). A recent four-car pileup on Kansas City's busy I-35 serves as an important lesson to local drivers: local police say that damages and injuries could've been considerably reduced, had all parties involved simply remained inside their vehicles.
Around 6:30 a.m. on Friday, February 10, a woman - who is suspected of driving while intoxicated - crashed into a semi-trailer near the Gregory intersection. A third approaching vehicle swerved, attempted to avoid the wreckage, and subsequently crashed into a guardrail. The driver of this third vehicle got out of her car - presumably to check on occupants in the first two vehicles - and was struck by a fourth vehicle, an oncoming pickup truck. The suspected drunk driver was arrested and is now facing charges. The driver of the third vehicle sustained the most serious injuries, and is currently hospitalized in critical condition.
Stacy Graves, of the KCMO Police Department, says it's understandable that the driver wanted to check on others involved in the accident, but in most cases, drivers should resist the impulse to exit their vehicles following an accident, especially on the highway. "Those types of accidents, getting out of the car and exchanging info right there, can be more dangerous than the accident you were just involved in," Graves said.
Throughout the state, law enforcement has become increasingly concerned about the growing number of pedestrian fatalities. Crash data from the Missouri Highway Patrol shows that 91% of 2010 collisions between cars and pedestrians resulted in serious injury or death. Meanwhile, the National Highway Traffic Safety Administration (NHTSA) reports that approximately 16% of fatal pedestrian auto collisions happen close to freeways.

The Missouri Department of Transportation (MoDOT) continues to develop preventative initiatives to stop pedestrian fatalities. "If I say 'pedestrian,' you tend to think of someone out for exercise or kids walking to school," says Leanna Depue, MoDOT's safety director. "But a pedestrian is any person near or on a roadway who is not in a vehicle or on a motorcycle. For example, someone changing a tire on the side of the road is a pedestrian." Similarly, motorists who have exited their vehicles following an accident become pedestrians as soon as they leave their vehicles. Especially in busy city traffic, drivers are often unprepared to encounter this kind of pedestrian.
To help prevent these tragic highway pedestrian deaths in Missouri, consider these using these practices:
• If you're involved in an accident on the highway, you should (1) turn off your engine; (2) turn on your hazard lights; (3) call 911 (in Missouri, you can also dial *55 from your mobile phone); and (4) wait for law enforcement and/or emergency responders to arrive.
• If your vehicle can be driven, move it out of the direct path of traffic (to reduce the risk of additional collisions).
• Remain in your vehicle, unless it can't be moved out of the direct path of traffic, or there is evidence of a possible fire or other emergency. If you must get out of the car, exit on the side furthest from the roadway.
• If you witness an accident on the highway, do NOT slam on your breaks and try to go back to the scene. Graves concurs: "If you see an accident and it doesn't seem that serious, call 911. We will block the roadways and check and make sure everyone gets treatment."
Note: if you are witness to an accident, what you saw might be especially important to injury victims. Be sure you report what you observed to police as soon as possible.
The personal injury attorneys at Aaron Sachs & Associates, P.C. serve car accident injury victims in Kansas City and the surrounding areas. For more information, call 1-888-777-AUTO, or visit our website.
Attorney meetings by appointment only